PRINTER FRIENDLY PAGE. To view this artist's HOME page, visit: https://www.delafont.com/magicians/rick-wilcox.htm **
Booking Rick Wilcox - Magicians, Illusionists - © Richard De La Font Agency, Inc. - For serious booking requests only, click here: For more information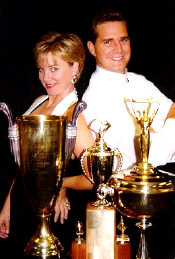 Rick Wilcox
---
Rick Wilcox – Master of Illusion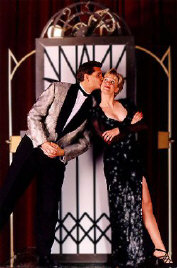 Rick and Suzan Wilcox, world-traveled entertainers, guarantee you an experience to remember! You'll be astounded by their magic, impressed by their teamwork, and amused with their comedy and audience participation.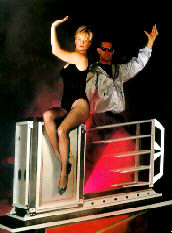 This show includes fast-paced, visually-moving magic set to music. You can have anywhere from the basic (by himself with basic illusions) to the most elaborate with the full Stage Illusion Extravaganza. The show can be customized to fit your budget.
Rick is trade-rated, by the International Brotherhood of Magicians, as one of the Top 10 Close-up Magicians in the world! He has performed throughout the world, including Las Vegas, Bally's Casino in Reno, the prestigious Magic Circle in London, the Magic Island Night Club in Houston and as a Safari performance for the natives of Kenya, Africa. Literally, thousands have been mystified with his ever expanding distinctive illusions.
Rick Wilcox has promoted products and services at numerous conventions and trade shows for such companies as Kodak, DuPont, Pepsi-Cola, Texaco, Masterlock, GE Medical Systems and Switchcraft. Using his skills in sleight of hand, he has been featured on television commercials for the Wisconsin Lottery and the J.C. Penney Stores.
As a full-time magician, Rick knows what audiences like to see in a show. Some of his feature illusions include Origami, Levitation, metamorphosis, Ultimate Separation and dozens of other top-notch audience favorites.

He spent six years as illusion manager for David Copperfield and maintains a highly professional appearance, charming and humorous personality and incredible skill as a MASTER MAGICIAN.
The Rick Wilcox Illusion shows can feature:
State-of-the-art sound system
Audience participation
Music and choreographed routines
Live-animal performances
Rick Wilcox may be available for your next special event. For booking information, click HERE!
---
What Others Say About ...
Rick Wilcox and Suzan
Cosco:
A Dorel Company
To the Richard De La Font Agency
"Richard, I would like to take a moment to let you know how pleased we were with Rick Wilcox at the recent Wal-Mart Stockholders' Meeting. Everyone, including Wal-Mart executives, were in awe of his performance. Please feel free to use me as a reference. Rick is very adaptable to any audience situation and I would highly recommend him to any organization." -- Richard W. Adams
Optenberg, Inc.:
Steel Fabricators & Mechanical Contractors
"We have not stopped receiving favorable comments on our choice of entertainment. You have a unique ability for integrating audience participation in your act. You truly made everyone feel included in the show." -- Sally Rosenthal, Office Manager
Mayflower Contract Services:
"We wish to formally thank you for an evening we will all remember for quite some time. You have again provided us with top-notch entertainment. We appreciate your attention to excellence and will always think of you in the highest regard." -- Kyle E. Martin, Vice President
New Holland:
"Thank you again for providing a very appropriate close at our "Parts Expo" at Bally's Las Vegas. The integration of our retail promotional material into your routines came off very well. We would be pleased to provide, without reservation, our recommendations to your prospective corporate clients." -- Jay Woods
American Cancer Society:
Wisconsin Division, Inc.
"Our written evaluations have shown nothing but positive comments. Thank you for giving us all such a happy and unbelievable time." -- Stanley Inhorn, M.D., A.C.S. Chairman
American Television:
"You out-did yourself and exceeded our expectations. You certainly were a hit!" -- Pat Billeb
---
To book Rick Wilcox for your special event, contact Richard De La Font Agency, Inc.
For faster service, do this first - click on this link: https://www.delafont.com/contactselect.htm