PRINTER FRIENDLY PAGE. To view this artist's HOME page, visit: https://www.delafont.com/magicians/Steve-Corbitt.htm **
Booking Steve Corbitt - Magicians, Illusionists - © Richard De La Font Agency, Inc. - For serious booking requests only, click here: For more information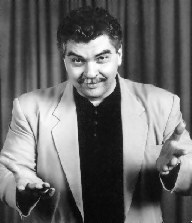 Steve Corbitt
---
"Everybody's Favorite Uncle"
Steve Corbitt's warm, friendly style has made him a hit all over the world. He mystifies, makes you laugh and touches your heart. He takes you on a wonderful roller-coaster ride of fun and enchantment.
When it is over, you feel like you have shared a special time with a dear and funny friend.
With his special blend of comedy, magic and audience participation, Steve creates a unique, fun-filled show tailored for every need. It can be laugh-filled, close-up magic for smaller groups or a hysterical, stand-up comedy magic presentation for the large audience. He provides enchanting interactive entertainment that is ideal for any event and any group.
Steve has entertained such luminaries as President Gerald Ford, astronaut Buzz Aldrin, baseball great Stan Musial and Colorado Governor Roy Romer. He was a hit in Japan, Okinawa and Korea, where he headlined a tour of Air Force bases for our overseas troops.
Always appropriate and considerate, Steve develops tremendous rapport with his audience that is magnified by inviting people from the audience to help with the show. He transforms your people into guest stars. This creates a special experience that will be treasured, remembered and talked about by all.
Steve Corbitt may be available for your next special event. For booking information, click HERE!
---
What Others Say About ...
Steve Corbitt
Drury Inns:
"Hey!! This guy is good!!" -- Chuck Drury, President
R Squared Scan Systems:
"All I can say is WOW! Your show made this our best seminar ever." -- Paul Thomas, Executive Vice President
Buzz Aldrin:
Astronaut, Moonwalker
"How in the *&%# did you do that?"
Gerard Ford:
Former U.S. President
"Ha Ha...Ha Ha!! Ho Ho! HaHaHa!!!"
Events Management:
"Steve's everything a meeting planner dreams of – clean, funny entertainment, dependable and professional. He's great to work with. When I work with Steve, there's never a hassle or a problem. I can count on Steve every time!" -- Paul Borrillo, Executive Coordinator
National Association of Letter Carriers:
"I laughed until I had tears in my eyes!" -- Nicki Prado
Southwestern Bell:
"This is the third time we have used you and you get better each time. We had a great time!" -- Dan Faubian
Monsanto Chemical:
"Great... you managed to reach across and really entertain people with vast cultural differences." -- Ann Jansen
"You really touched me. You are welcome back anytime."
PPG Industries:
"Wow! Are you available again next year?" -- Linda Highcock
American Society of Health Engineers:
"You were so much fun! Let's do it again."
ADT Security Services:
"Perfect! Your light-hearted performances were the perfect fit for our guests."
---
To book Steve Corbitt for your special event, contact Richard De La Font Agency, Inc.
For faster service, do this first - click on this link: https://www.delafont.com/contactselect.htm