PRINTER FRIENDLY PAGE. To view this artist's HOME page, click or visit: https://www.delafont.com/magicians/Eric-Brouman.htm **
Booking Eric Brouman, magician - Magicians - © Richard De La Font Agency, Inc. - For serious booking requests only, click here: For more information
Eric Brouman
---
When watching Eric Brouman, you will witness a unique and unforgettable performance by an award winning entertainer. This show is an enchanting performance ingeniously combining the brilliant style of a master magician, the sophistication of a hit Broadway musical, the mind boggling special effects of a blockbuster action movie, the high energy excitement of a rousing rock concert and the glamour of a standing-room-only Las Vegas extravaganza.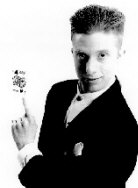 Eric Brouman's extraordinary feats of magic combined with his charismatic personality, have made him deservedly popular wherever he appears. His original concepts and fresh approach to the art of illusion make him a pioneer in magic. His exciting presentation consists of award winning close-up or stage magic, music, "robotic-dancing," theatrical masks, costume changes, special effects, and plenty of comedy with interactive audience participation.
John Cicero, Director of Marketing, NFL, describes the Eric Brouman performance as, "...extraordinary, a singular sensational show – a real artist on stage. He's entertainment at its best."
Eric Brouman has opened for such talent as Jerry Seinfeld, Gloria Estefan, Ben Vereen, Barry Manilow, Rita Rudner, Debbie Gibson and the Cleveland Browns. He has traveled all across the country performing at resorts, casinos, major theme parks, events of Fortune 500 Companies, and on cruise ships. His television credits include appearances on "America's Funniest People" and "Comic Strip Live."
Some of Eric Brouman's corporate clients have included BP America, Blue Cross/Blue Shield, the Rock and Roll Hall of Fame, NFL, NBA, Goodyear Tire Company, Rubber Maid Corporation, Sony Music Corporation, Nestle Foods, Bayer Aspirin, American Greetings, NBC, ABC and FOX television.
TV Guide calls Eric, "A true revelation. Sharp, Funny and Illuminating."
In summary, Eric Brouman's show includes ---
Comedy
Musical comedy
Interactive audience participation
Costume changes for audience members as well as himself
Audience involvement
Keeping the audience's attention
Personalization to your particular audience
Standing ovations
An act that will be remembered long after the show!
Eric Brouman may be available for your next special event. For booking information, click HERE!
---
To book Eric Brouman for your special event, contact Richard De La Font Agency, Inc.
For faster service, this is required - click on this link: https://www.delafont.com/contactselect.htm