PRINTER FRIENDLY PAGE. To view this artist's HOME page, visit: https://www.delafont.com/magicians/Zigmont.htm **
Booking Zigmont - Magicians, Illusionists - © Richard De La Font Agency, Inc. - For serious booking requests only, click here: For more information
In the night, the imagination comes alive; the senses are sharper; laughter is deeper; the creatures there are free to be entertained...by magic. Zigmont ignites each performance with high energy excitement, sending your event into overdrive.
Zigmont Magic F/X was the winner of A BIG-E HONORABLE MENTION AWARD!
The BIG-E acknowledges the most outstanding examples of entertainment in the amusement industry, at the International Association of Amusement Parks and Attractions (IAAPA) Convention and Trade Show. The Nominated was the Best Production 2001 for FORBIDDEN MAGIC: Secrets of the Mummy's Tomb.
As a premier illusion show presenter --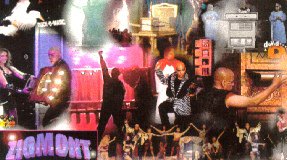 As a premier illusion show presenter, Zigmont's illusions are fast-paced, visually moving and dangerously exciting. The show carries today's best magic and full-scale state-of-the-art illusionary effects. Today's corporate audiences expect a Disney style production on the hotel site. Zigmont's show package is exactly that and is complete. You don't have to worry about the details; his cast of professionals will help you look good.
Zigmont has been able to capitalize on his globe-trotting career as an illusionist by sharing his knowledge with a variety of special event planners, party producers, hotel destination managers and corporate event coordinators. Zigmont's bag of tricks added to the success of thousands of live shows with skillful integration of dramatic lighting, pyrotechnics and high-octane illusions. This has earned him a reputation of being able to produce shows that deliver spectacular results.
Zigmont is an excellent value when looking for corporate entertainment. If shopping for high visual impact to open or close your business theater event, this mega illusion show is the punch you're looking for.
Forbidden Magic --
Egyptian Themed Show Zigmont's original Egyptian theme show is a cross between a Studio Theme Park Show and a Casino Show production, with a great sound track that is the driving force of the show. Zigmont incorporates Egyptian painted drops and sets pieces along with beautiful costumes that become the perfect scenery for the cast of eight that perform some of the most amazing illusions of our time. This is an action packed show that has special effects with smoke, an awesome lighting design, fire, pyrotechnics, and Egyptian choreography that are all weaved together to accent the incredible illusions.
No other show does an exotic "Egyptian Theme Show" with all the illusionary props and special effects, set pieces and costuming like Zigmont's production company. They are ready to custom craft their show for your theater. Nominated and Won an IAAPA's Big "E" Best Production award for FORBIDDEN MAGIC: Secrets of the Mummy's Tomb 2001 "Egyptian Theme Show."
Mission: Totally Impossible --
A high-impact illusion spy theme, with rapid illusions that a has fast-paced action and larger-than-life persona and plenty of pyrotechnics. Let the your session begin with our mission impossible. Let Zigmont brainwash your corporate audience and predict sales information, projections along with brand names or clients perfect product at their corporate events.

One of the tools of the trade in the mission: impossible theme. The illusions of mission impossible are simply awesome, see spies appear and disappear while another girl is compressed to a foot in size and brought back to regular size. Watch as a beautiful girl turns invisible then brought back completely again and then pushed through the blades of an industrial fan. Then, the bomb removal illusion brings the show to an explosive ending. Do not have your group miss all the action.

Bring Pyro to Corporate America.... Would you like to produce a guest of honor or VIP Speaker in a puff of smoke or a shower of sparks? Reveal a product under the cover of pyrotechnics or just celebrate the end of your award show with a pyrotechnical display.

Zigmont's Pyrotechnical Display will ignite a hotel ballroom with excitement and energy. Enter into a new realm of expression and visualization with a signature piece in the form of a specialized custom full scale indoor pyrotechnics show and special effects displays designed by Zigmont. We are able to utilizing an assortment of indoor effects simulating outdoor aerial fireworks. Push your event into overdrive with a "Night of Nitro" blazing zero fallout indoor fireworks show. This pyrotechnic show can start-up any event, add pizzazz or close an event with "A High Octane " pyrotechnic show.

Magic F/X specializing in creating unique zero-fallout indoor close proximity pyrotechnic displays. We are ready to focus on your event nationwide and customized our special effects for your production. Our complete services offer licensed and experienced technicians, trained in safety to create original indoor displays with unbeatable experience and qualifications, there is no better choice with prices you can afford! We offer custom designing and staging for your indoor or indoor fireworks outdoors for that special event, product launch or sporting extravaganza or corporate award banquet. We are ready to WOW your audience and rock your event.
Zigmont may be available for your next special event. For booking information, click HERE!
---
To book Zigmont for your special event, contact Richard De La Font Agency, Inc.
For faster service, do this first - click on this link: https://www.delafont.com/contactselect.htm
For serious booking requests only - no exceptions. Thank you for your cooperation.