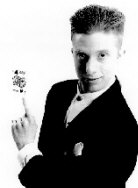 Eric Brouman's extraordinary feats of magic combined with his charismatic personality, have made him deservedly popular wherever he appears. His original concepts and fresh approach to the art of illusion make him a pioneer in magic. His exciting presentation consists of award winning close-up or stage magic, music, "robotic-dancing," theatrical masks, costume changes, special effects, and plenty of comedy with interactive audience participation.
John Cicero, Director of Marketing, NFL, describes the Eric Brouman performance as, "...extraordinary, a singular sensational show – a real artist on stage. He's entertainment at its best."
Eric Brouman has opened for such talent as Jerry Seinfeld, Gloria Estefan, Ben Vereen, Barry Manilow, Rita Rudner, Debbie Gibson and the Cleveland Browns. He has traveled all across the country performing at resorts, casinos, major theme parks, events of Fortune 500 Companies, and on cruise ships. His television credits include appearances on "America's Funniest People" and "Comic Strip Live."
Some of Eric Brouman's corporate clients have included BP America, Blue Cross/Blue Shield, the Rock and Roll Hall of Fame, NFL, NBA, Goodyear Tire Company, Rubber Maid Corporation, Sony Music Corporation, Nestle Foods, Bayer Aspirin, American Greetings, NBC, ABC and FOX television.
TV Guide called Eric, "A true revelation. Sharp, Funny and Illuminating."