Even at age 10, Glen Gerard knew he would someday entertain audiences nationwide with his unique brand of humor and magic.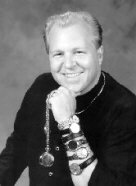 As a teenager, Gerard received numerous awards for his skills as a stage magician. He furthered his education by studying theater and communication in college. By utilizing comedy, Gerard has developed a fresh and original act that emphasizes audience involvement. Audience members are forewarned that during the Glen Gerard Show, "You may be the star!"
He now performs professionally for hundreds of comedy clubs, conventions, trade shows, colleges and other special events each year. Integrating comedy, sleight of hand and outrageous audience participation, Gerard is the perfect choice for any group that demands first class entertainment.
He has appeared with major touring acts such as "Weird Al Yankovic" and "Starship" and has been called a "Major League Entertainer" by the Milwaukee Brewers Baseball Club. In addition, his sleight of hand skill has appeared in numerous television commercials.
Large corporations that have enjoyed his show include Yamaha, Bank One, the U.S. Postal Service, Oshkosh B'Gosh, Marquette University, Wisconsin Electric Power Company, Johnson Wax and many more! In 1996 he performed before President Bill Clinton.
From close-up, strolling magic to a full stage extravaganza, Glen is the one who "fools all of the people, all of the time!" So, if you are looking for fast, funny entertainment for your next event, choose Glen Gerard. He's a sure thing. Whatever your needs may be, he will adapt his show to create a personal performance for you!
Glen Gerard may be available for your next special event!
For booking information, click HERE!
Rating:
DG
For ratings guide, click here.
Based: ..in US
Based: ..in Wisconsin / based nWisconsin