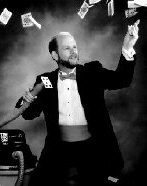 Sure to bring amazement and laughter to any crowd, Glenn Strange combines mystery with side-splitting comedy to make sure his audience is thoroughly entertained. Everyone goes away feeling great!
Glenn has traveled from New York, to Florida, to California, and many parts in between, entertaining groups just like yours. He is a unique, one-of-a-kind entertainer who puts his audience and their feelings first.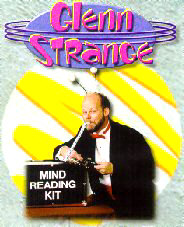 Glenn Strange has shared his original ideas and unique talent with more than 6000 fellow magicians by being a featured entertainer at many magic conventions throughout the United States. His tricks and routines have also been published in many magic publications.
Some of his performances include engagements at the world-famous "Magic Castle" in Hollywood, "Brown's Hotel" in New York and aboard the Queen Mary ocean liner.
You will be sure to win praises from your friends for arranging such a delightful, wonderful and entertaining event.
What others say --
Eastman Kodak:
"Your combination of magic and comedy made our celebration a huge success. People are still talking about your 'Mind Reading Kit'."
-- James D. Harlan, Engineering Manager

American Equipment Company, Inc.:
"I want to thank you for an outstanding performance. You were wonderful! Your stage presence and rapport with the audience was superb. During your 'medicine' eating routine, one person had to go to the bathroom, because he couldn't handle any more laughter. While he was gone another person began laughing so hard he fell out of his chair."
-- John D. Malone, Director, Safety and Quality

Milliken & Co.:
"Your show was great for all age groups and very well received by both adults and children. It was refreshing to hear good, wholesome and entertaining comedy. Your performance was very professional and finely tuned and captured our audience's attention every minute. You were a great success!"
-- Ronald E. Pruett, Corporate Systems Department

Duke Power Company:
"Ordinarily, magic shows do not interest me, but you have a style quite unlike any magician I have ever seen. I thoroughly enjoyed it."
-- Brenda C. Albertson

Fluor Daniel, Inc.:
"Your show is hilariously funny, clean and doesn't offend anyone. Our entire group raved about your magic act. I will recommend your most professional show highly for any audience."
-- Sarah Percival, Secretary, CPI Resource Center

Coats American:
"We will be glad to recommend Glenn's performance for any group needing good, clean entertainment."
-- Wade C. Bowman, Manager, Industrial Relations

Georgia Golf Course Superintendents Association, Inc.:
"I wanted to write and thank you for recommending Mr. Glenn Strange for our dinner entertainment. He was perfect! His country comedy and magic tricks kept our audience in stitches. Additionally, he did an exceptional job in getting "volunteers" from our audience, and including children as well. I would highly recommend him for any type group. He had some in our group laughing, so hard I thought they would cry. We hated to see the night end! Glenn was superb and made our meeting and dinner a great success. Please extend our thanks to him for such great fun and laughter!"
-- Karen R. White, Executive Director

Smith Drug Company, Division of J.M. Smith Corporation:
"Wow! What a show!! Everyone is still raving on how great and funny your show was – and you did it three months ago! This was the second time I had seen you perform and I laughed harder and longer. I was laughing so hard, I was crying. We assigned you the "warm-up" spot. Boy, did we ever make a mistake. You were the class act and the headliner! Thanks again for a wonderful show!"
-- Ken Couch, RPh, Past President, South Carolina Pharmacy Association

John Deere Power Products, Inc.:
"I take great pleasure in having the opportunity to recommend Glenn Strange's Comedy Magic Show. I have had the opportunity to see Glenn's show twice. Each of the two audiences were entirely different. Glenn was superb at both! Although Glenn's ability to perform magic tricks and comedy are finely polished, his ability to capture an audience and involve them in the show, ensure complete success at any event being planned. Once again, we thoroughly enjoyed every aspect of Glenn's show."
-- Jim Perry, Production Supervisor
Glenn Strange may be available for your next special event!

Rating:
DG
For ratings guide, click here.

Based: ..in South Carolina / based nSouthCarolina