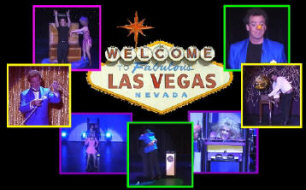 Backed by an exciting score of music, Harry Maurer is a favorite of top producers because he has a clean, professional look that showrooms expect and a unique "game show" personality and high energy that audiences demand!
Winner of numerous Corporate Awards and nominated for a prestigious "Atlantic City Entertainer of the Year Award," Harry is an international entertainer who knows what audiences enjoy – his years of experience proves it. Fun, but never offensive, he is a natural emcee choice because he knows how to get audiences involved in a production in so many fun and exciting ways!
He is a warm, captivating entertainer who has the variety to fit into any size production. He takes you from the comedy of his uniquely original "Picture Frame Trick" to the drama of "The Razor Blades" to the parody of a magical game show called "You Bet Your Life" to the heartwarming appearance of "Alfie, the Wonder-dog," to the incomparable situation comedy of the "$100 Bill Trick" – a trick that evokes so much fun with so little – the Magic of Harry Maurer has something for everyone!
Harry Maurer may be available for your next special event!

---
What Others Say About ...
Harry Maurer
Variety:
"The key to this production is 'magico' Harry Maurer, a brash, youthful performer with a good sense of humor who knows how to get around audiences."
Las Vegas Entertainment Today:
"His easy manner with the audience combined with a magical skill second to none is what the audience remembers long after the curtain goes down."
New York Post:
"Magician/comedian Harry Maurer is appealing and very good!"
Entertainment News and Views:
"Magician/comedian Harry Maurer is a delight. He has possessing qualities that whole-heartedly deserved the cheers from the audience. He definitely has a special style of delivery. This young man is going places!"
Atlantic City Whoot:
"Harry Maurer is a magician who enjoys an enviable reputation in 'Casino City'. Before you can blink your eyes or take a deep breath, magician/comedian Harry Maurer takes the stage. Now I was sitting 10-15 feet from the stage and I have absolutely no idea how this guy does these tricks, but I do know one thing, Maurer is good – very good!
This just might be one of the best entertainment values anywhere in South Jersey, not just Atlantic City! The magic of Harry Maurer must be seen!"
---
Rating:
DG
For ratings guide, click here.

Based: ..in Texas / based nTexas
..in Houston / based HoustonTX