"Post Modern Magic"
As Seen On NBC's World's Greatest Magic!
Voted Magic Castle's Stage Magician of the Year
for two consecutive years!
Jason Byrne was born in Fribourg, Switzerland and raised in Windsor, Ontario, Canada, but the magic touch began on a Christmas Day in Rocky River, Ohio.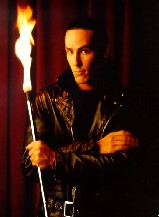 As a six-year old, he found a present under the Christmas tree from his grandfather – a cardboard box that made a little sponge bunny vanish and reappear upon the boy's command. He made that bunny disappear a hundred times that day!
Jason's awakening to magic soon became fascination. Fast forward several years to Colon, Michigan – the Magic Capital of the World – where Jason met Brett Daniels at one of the summer magic fests. Shortly after that first meeting, Jason sought and received, a brief but intense course of private instruction from this rising young master magician.
After fine-tuning his act, Jason emerged ready for his early competitions. He won first place at the 1989 Michigan Magic Day and then, in short order, a sequence of firsts at Abbott's Magic Get-Together, the Columbus Magi-Fest and Magie Montreal.
At age 21 he became a regular at dinner theaters: Wizardz, The Comedy and Magic Club and the Magic Castle. It was only a matter of time before he was discovered and invited to perform on NBC's "World's Greatest Magic II." With this nationally televised appearance, Jason's career moved into a new dimension.
In quick succession, Jason achieved several major international distinctions, including the Golden Lion's Head Award, presented by master illusionists Siegfried and Roy. With the acceptance of his peers, he was chosen to be the April, 1997 cover story for Magic Magazine – the largest independent magic magazine in the world. That same year, and again in 1998, he was named Stage Magician of the Year by The Academy of Magical Arts.
Jason has performed not only in the U.S., but throughout the world. He has brought his unique brand of entertainment to Japan, Germany, Portugal, Taiwan, New Zealand, Colombia, Brazil, Canada, Holland, Spain and France.
Always with an eye on Las Vegas, Jason made the leap early this year – he now performs twice nightly in the revue show "Splash" at the Riviera hotel/Casino on the Strip. He has taken one of the world's oldest forms of entertainment, magic, and propelled it head-first into the 21st century.
Welcome to the future of entertainment. Welcome to Jason Byrne's Post Modern Magic!
Jason Byrne may be available for your next special event!
For booking information, click HERE!
Rating:
DG
For ratings guide, click here.

Born: ..in Switzerland

Raised: ..in Canada
..in Ontario
..in Windsor

Based: ..in Nevada / based nNevada
..in Las Vegas / based LasVegasNV