Internationally known Magician and Illusionist Jason Purdy is a natural born performer. He craves the attention of his audience and, once captured, holds them hostage to their amazement.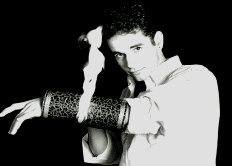 With Jason's stunning flair for dramatics and the love of his art, Jason combines spectacular magic and illusions, witty comedy and toe tapping music along with audience participation to create a memorable, magical entertainment experience!
Jason has been perfecting his art for more than two decades! As a boy, Jason was given his first magic kit. The kit was old and dilapidated with many missing pieces of apparatus. But the one thing that it wasn't missing in the eyes of this seven-year-old, was the mysticism of the art itself. To this day, Jason carries that intrigue within him and passes it on to his audience.

Jason Purdy is a full-time entertainer. His classy, intelligent shows have been in demand entertaining a wide array of audiences at corporate events, hotels, businesses, fairs, schools, etc. throughout the United States. Jason has been featured in several newspaper articles and has earned the respect of many enviable critics.

"The Magic of Jason Purdy" incorporates classic illusions and slight of hand as well as contemporary magic pieces. Whether Jason is performing his awe inspiring dove act or materializing his assistant in a glass box you never know what he is going to do next.
For five weeks in 1998, Jason Purdy performed his dove act "The Magic of Fire, Flight and Fantasy" in Osaka, Japan. More than one hundred-fifty thousand people were thrilled by his show during this time.
Notable corporate clients include: Anheuser-Busch Co., ChemServe, Cheshire Fair Association, Inc., Coca-Cola Bottling Company of New York, Grolen Communications, Inc., Ingersoll Rand Co., Milestones, Inc., New Hampshire Health Care Association, Peerless Insurance Company, Precitech, Safety Environmental Control, Inc., Troy Mills, Inc., and many, many more!

If you are looking for a different way to be entertained or just need feature entertainment, "The Magic of Jason Purdy" is for you!
Jason Purdy may be available for your next special event!
For booking information, click HERE!
Rating:
DG
For ratings guide, click here.

Based: ..in New Hampshire / based nNewHampshire