Theatrical and Corporate Magician and Illusionist
If you want a successful performance guaranteed to communicate success, teamwork and quality while it motivates people to reach for their dreams, choose the performance of Steffan Soule, Magician Extraordinaire.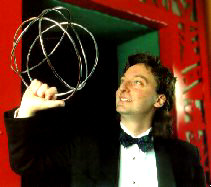 It takes a confident and polished performer to reach today's corporate audience. Steffan's level of quality ensures that everyone in your audience will be impressed, and make the event planner look great!
You might find a clean, great comedian, you can usually find a great musician, but there are very few truly great corporate style magicians. This is why you should seriously consider Steffan for your event.
He has crafted his show for the modern corporate audience while writing custom magic shows for top executives at national sales meetings, corporate retreats and annual events.
Corporate events are his specialty: such as floating corporate logos in the air and making presidents and CEO's appear and disappear. He creates world premiere Grand Illusions for some of the largest theaters and corporate events in the country.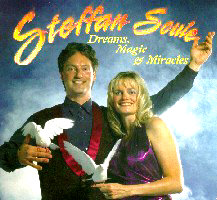 Magic is a visual art. It keeps people's minds active for days after the performance. Your audience remembers the event because magic, when performed well, engages thoughts and feelings, stimulates impressions and activates creative imagination.
Steffan has performed his corporate magic shows for many major corporations, including Microsoft, IBM, Hewlett-Packard, Digital Systems International, United States Olympics Committee, Lattice Semiconductor, Boeing, Puget Sound Power & Light Company, Weyerhaeuser, McDonalds Corp, Electronic Transaction Company and many more.
Bill Gates who has seen Steffan's work more than six times, including a show in his living room, said, "Steffan, there is only one magician who is better than you. He was a mathematician with a deck of cards I worked with at MIT. Your show is the best we have had at our company!"
Steffan is ready for your next banquet, party, group, business or personal event. He will amaze, entertain, communicate your corporate ideas and put wonder and belief back on the drawing board. That is what you will get when you hire Steffan to highlight your events.
Steffan Soule may be available for your next special event!
For booking information, click HERE!
Rating:
DG
For ratings guide, click here.

Based: ..in Washington state / based nWashington
..in Mercer Island / based MercerIslandWA