How To Book TIM SONEFELT For Your Event!
Tim Sonefelt may be available for your next special event!


Tim Sonefelt
---
"South Carolina Magician of the Year – 1998"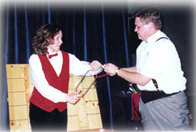 If you need after dinner entertainment you've come to the right place! Tim Sonefelt has more than a decade of experience entertaining this type of audience. Combining music, magic, comedy, live animals, and audience participation, Tim's program isn't just a magic show, it's a PRODUCTION!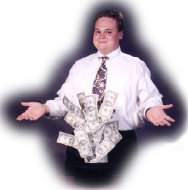 Tim even combines GRAND ILLUSION with his interactive magic program to ensure that your event is unforgettable! He can even arrange for your CEO or special guest to make a magical appearance!
Why not provide elegant magical entertainment for your clients. Tim will entertain small groups of people, letting them know that you did something especially for them! Best of all, Tim is entertaining, not distracting!
For your trade show, let Tim blend your sales or corporate message with his elegant sleight-of-hand magic. This combination is sure to leave a lasting impression on visitors to your booth. This technique is proven to increase the number of leads you get per show!
Tim Sonefelt may be available for your next special event!

Rating:
DG
For ratings guide, click here.

Based: ..in US
Based: ..in South Carolina / based nSouthCarolina
Do you need to print copies?
For a special page designed for printing or e-mailing, click here.

booking tim sonefelt, booking information for Tim Sonefelt, book Tim Sonefelt
Consider this your official booking agency web site - The booking agent who works for you!
book tim sonefelt magician booking tim sonefelt booking agent contact information official web site manager home page website management concert bookings, biography
This site uses a fast and efficient internal search engine to help you find what you need. The following tags help it do its job --
Incorrect or alternate spelling: Tim Sonifelt, Tim sonifeld, Tim Sonefeld, tim s, tim so, tim son, tim sone, tim sonef, tim sonefe, tim sonefel, tim sonefet, tim somefelt, timsonefelt, tim sonefelts, tim sonefelt's