In the history of magic, Franz Harary (frawnz hah-RAH-ree) is truly unique - he is the first world-class magician ever to design and create all of his own illusions, as well as perform them live before mesmerized crowds. This was best demonstrated on an NBC-TV special in November, 1994, when Harary vanished the Space Shuttle before a live audience at Kennedy Space Center.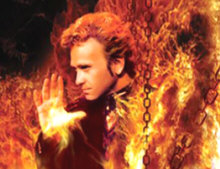 Since the fall of 1991, Franz Harary has been boggling the minds of audiences throughout Asia where he received rave reviews and was constantly mobbed in the streets of Hong Kong, Jakarta, Malaysia and Singapore.

Incorporating a life-long love of both music and magic, Franz Harary became well-known throughout his home state of Michigan as an extraordinary boy who could dazzle crowds with large scale illusions.

Born and raised in Ann Arbor, Harary's fascination with magic began in his youth, as did his avid interest in the arts. "I did plays and productions from elementary school right through college." Harary says. He attended eastern Michigan University on a classical voice and music scholarship.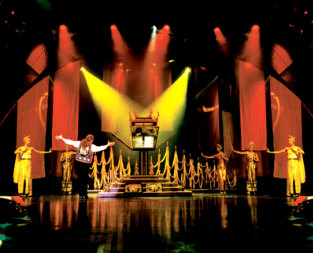 While in the Michigan Marching Band, Franz Harary convinced the director to let him merge his passions for music and magic by designing illusions as part of the half-time shows. Harary once made the trumpet section vanish from the 20 yard line and reappear at the opposite end of the football field. He also levitated a young lad at mid-field. Since then, his magic has been featured at countless sporting events, including the 1983 Rose Bowl and the 1989 Super bowl.

In 1983 Harary's career skyrocketed when he sent a videotape "cold" to superstar Michael Jackson. The material so impressed the singer that a quick meeting was arranged and Franz Harary found himself the designer of all of the illusions Jackson utilized for the famous 1984 "Jackson's Victory Tour."
Since working with Michael Jackson, Harary's credits have come to read like a veritable who's who of today's pop music industry. His clients include Janet Jackson, Alice Cooper, Bobby Brown, MC Hammer, Tina Turner, Earth, Wind and Fire, as well as countless others. Franz Harary has single handedly brought back magic as a viable element in today's live concert productions.

Since deciding in 1987 to begin performing live himself, Franz Harary has appeared on television programs worldwide. In the United States, his appearances have included "Lifestyles of the Rich and Famous," "Circus of the Stars," ABC's "Sea World Special" and many others. He has also guest-starred on numerous television specials in Japan, the UK, Belgium, Mexico and Italy.

Franz Harary has starred in his own one hour television specials in Singapore, China, Malaysia, Thailand and Indonesia. In Indonesia, he also guest-starred on the #1 sitcom in that country. That episode was the highest rated program ever in the history of the show.

Explaining his unprecedented marriage of magic & pop music, Harary says, "I think MTV's presence has been one of the most important reason why magic has become such a viable element in rock shows. Magic can satisfy the public's craving to see the same feats of technology and imagination on stage that artists freely use in their music videos."

As for the future of the art form, Franz Harary continues to bend, twist and change it, developing new principles and bringing the phenomenon to higher levels. "The magical arts have lain virtually unchanged for more than 30 years." he says. "It's time to bring them up to the level of sophistication, popularity and acceptance that film, video and music now enjoy. I believe it's up to me to make that happen."
Franz Harary has proven himself to be one of the most influential illusion designers in the world today. His work as a master creator has changed the way live entertainment has come to look. Specifically, his understanding of engineering, combined with his cutting edge science of style and imagery, has allowed him to literally redefine illusion as a venerable element in a vast spectrum of genres from Broadway to Rock 'n Roll.
With the unique ability to create visual impossibilities live on stage, countless Fortune 500 companies have called upon Harary to put his designs to work for them. From making new products magically appear, levitating automobiles, teleporting people over thousands of miles, or transforming CEOs into star magicians themselves, Harary brings a new life to sales meetings, product reveals and corporate productions.
Franz Harary has starred in more than 20 of his own television specials throughout the United States and worldwide. Both as producer and on-screen personality, he remains a prominent presence in today's television industry.
What others say --
Entertainment Tonight:
"Absolutely amazing!"

Dick Clark:
"Incredible. Just Incredible."

Playboy:
"A Master Magician. Some of the most complex illusions in America."

New York Daily News:
"Today's hottest and most innovative display of modern magic."
Franz Harary may be available for your next special event!
For booking information, click HERE!
Rating:
DG
For ratings guide, click here.

Born: ..in Michigan / born nMichigan
..in Ann Arbor / born AnnArborMI

Raised: ..in Michigan
..in Ann Arbor

Based: ..in California / based nCalifornia
..in Los Angeles / based LosAngelesCA