How To Book MAC KING For Your Event!
Mac King may be available for your next special event!


Mac King is an American comedy magician who has performed on television specials, often as a co-host. He has his own family-friendly show, "The Mac King Comedy Magic Show", at the Harrah's Las Vegas in the Clint Holmes Theater.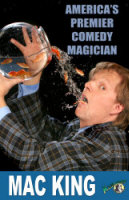 After performances, King greets show attendees as they exit, signing autographs on pictures or books. His typical autograph reads: "I'm Mac King."
Mac King is not only one of the greatest magicians alive today, he's also the funniest – and weirdest!
See why all the television comedy shows, like "Evening at the Improv" and "Comic Strip Live", love Mac's visual style.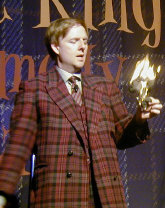 You've never seen anything quite like this! Really! Have you ever seen a person's head completely cave in and disappear? Or shaving cream shoot from a guy's ear ten feet out into the audience? Not unless you've had "The Mac King Experience". These tricks and much more happen when you witness Mac in action.
See why he was chosen to be the comedy magician on the NBC television special "The World's Greatest Magic." See why, after that, the producers just had to have him on their next big NBC magic show "Houdini: Unlocking His Secrets."

After those two performances, when NBC bigwigs were deciding who would be on "The World's Greatest Magic III," of course Mac was once again right at the top of their list!
After that, it's easy to see why he was such an obvious choice for NBC's next television extravaganza, "The World's Wildest Magic." And hopefully you caught his antics on the recent "The World's Greatest Magic IV."
He is the ONLY act chosen by NBC to appear on all four "World's Greatest Magic" shows!! It has something to do, no doubt, with his charming personality and amazing visual style. And maybe his favorite suit!
That's certainly why all the television comedy shows like "An Evening at the Improv" and "Comic Strip Live" have made Mac King a regular. And it's probably why he performed more than 275 shows last year for delighted crowds in England, Japan, Australia, Spain, Canada, Finland, Denmark, Sweden, Chile, Portugal and of course, the good ol' U.S.A.!
What others say --
The Charles Machine Works, Inc., "Ditch Witch – The Underground Authority"
via the Richard De La Font Agency
"On behalf of the employees of Ditch Witch, I want to say how much we enjoyed your appearance at our Christmas party.
Your humor was delightful and your magic was nothing less than amazing. Needless to say, "How did he do that?" was the main topic of conversation at work the next day. Speaking on behalf of all those C.M.W. employees who attended the party, we have never laughed so hard or enjoyed being mystified so much as during your performance."
-- Sue Hilim, Special Events Coordinator

Fan:
"Please forward my compliments to Mac King for a great show he performed last night at the FunnyBone in Evansville, Indiana. He is one of the best performers and funniest comedians I have seen anywhere. We'll look forward to seeing him back in town again sometime."
-- Eric R. Wandel, P.E.


Penn and Teller (other famous magicians):
"Mac King is a god!"


Walt Disney Imagineering:
"A delightful blend of deception and drollery."


Playboy Magazine:
"Mac King is a genius."

Los Angeles Times:
"Looking like a dressed-up hayseed, but displaying an impish wit that belies his look. A "Best Bet" for the weekend."

Price Waterhouse:
"I don't know how we'll top this year's entertainment at future Colloquiums. You set a very high standard!"

MAGIC: (Magicians' trade publication)
"Mac King is a great comedian, which means he's not only funny, he also makes it look easy. That, in turn, invites the public to warm to him immediately. Very few entertainers are able to attain such a quick rapport."

L.G. Cook Distributor, Inc.:
"It was lucky thing for me that you were as good as you were. My career is still on track because of it. I thank you, my wife thanks you and my kids thank you. I was very impressed."
Mac King may be available for your next special event!

For more suggestions, proceed to the next page.
Click here --
Magicians Roster | Comedians Roster
Or, click on one of the below links --
Music Menu
Fast Index
Entertainers Directory
Home