For more than 20 years Lyn Dillies has thrilled audiences with incredible illusions, such as Metamorphosis, The Window, Human Diffusion, and The Twister, just to name a few. But illusion is only half of the magic of The Magic of Lyn. The lady herself is the other half. From the moment she first appears on stage, Lyn Dillies puts the audience on the edge of their seats and in the palm of her hand.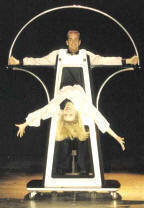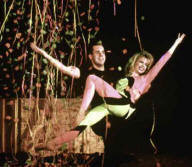 This slender blonde banters and dazzles her way into the hearts of all who witness her Houdiniesque feats. Lyn Dillies has made frequent appearances on TV and has shared the stage with notables such as Mikhail Baryshnikov, Crystal Gayle, and Marvin Hamlisch. She has even performed with a live symphony orchestra at Lincoln Center.
The Magic of Lyn is a show that is as versatile as it is spectacular. A self-contained 'Vegas' production, Lyn Dillies provides her own state-of-the-art sound and lighting. The show can be tailored to any audience, from all-kids to a general audience to a group of engineers. Finally, the show is flexible enough to be a rousing 20-minute opening act or a full one-hour-and-fifteen-minute headliner performance!
From the grand stages of Lincoln Center to the glitterama of Atlantic City, Lyn Dillies has captivated audiences of all ages with her spellbinding powers of prestidigitation. She has been hailed as the finest female magician in the land as well as one of America's top illusionists, period! The Magic of Lyn is a show filled with eye-defying illusions, hypnotic lighting, hot music and most magical of all, the enchanting personality of Ms. Lyn Dillies.
Lyn can adapt her show to include corporate themes, products, and personnel. Like to see your CEO sliced in half? Hire Lyn Dillies.
The Magic of Lyn has performed for --
Theaters
Casinos
Conventions
New Product Introductions
Corporate Events and Sales Meetings
Arts Council Galas
Major Fund Raisers
What others say about the Magic of Lyn --
"Over 18,000 people had the opportunity to see your show... Your grace, talent and charm virtually wowed the crowd!"
-- Sal Scianna, IBM Corporation
"Lyn is, without a doubt, one of the most talented illusionists working today, anywhere. She deserves legendary status."
-- Boston Barnstormer
"Without a doubt, The Magic of Lyn was the best entertainment we have ever had at our conventions. I would not hesitate to give Lyn a FIVE STAR RATING!"
-- Jay White, Burger King
"Thanks for making our conference a magical sensation! The personal touches that you added for ICONICS were terrific, and the plugs for our new products were a smashing success!"
-- Theresa Moitoso, Iconics
"In both Boston and Chicago... the high level of creativity, flexibility and professionalism exhibited by you and your staff was much appreciated. I feel your shows were a tremendous success in helping us build excitement at our events."
-- John Mar, BOSE
"What an outstanding performance! I could not imagine a more electrifying way for our Vice Chairman to have made his entrance! The Magic of Lyn is incredible!"
-- Michael Burns, Bank of Boston
"Lyn is an engaging and exceptional illusionist!"
-- Magic Magazine
"Our audience was comprised of company personnel from all over the world. Lyn and her associates had our group spellbound with their acts of magic and illusion."
-- Theodore S. Clemens, Pitney Bowes
Lyn Dillies, The Magic of Lyn may be available for your next special event!
For booking information, click HERE!
Rating:
DG
For ratings guide, click here.

Based: ..in Rhode Island / based nRhodeIsland
..in Providence / based ProvidenceRI