How To Book MICHAEL FINNEY For Your Event!
Michael Finney may be available for your next special event!


Michael Finney is magician and stand-up comedian rolled into one.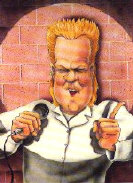 Sometimes he spends more than 40 weeks on the road. That is okay, because now he is enjoying a successful career on the comedy club circuit, corporate dates, national television appearances and plenty of time on the golf course – life truly is a bowl of cherries for this funny man.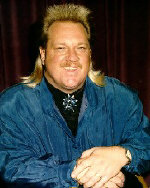 Often mistaken for a professional wrestler, Michael enjoys the extra attention. With a flat top haircut gone awry, his appearance is as unique as his comedy.
He is a recipient of the Silver Lion's Head Award from Siegfried & Roy for his comedy magic. In 1988 he was a "Star Search" finalist which opened doors for appearances as the opening act for such headliners as Dionne Warwick, Frankie Beverly & Maze, The Marshall Tucker Band and Gary Wright.
His television credits include Fox-TV's "Comic Strip Live," A&E's "Evening at the Improv," "Showtime Comedy Club Network," "Sunday Funnies," "Comedy Express," "Comedy On the Road" "Comedy Central" and "Entertainment Tonight."
Michael has appeared with Jay Leno, Garry Shandling, Elayne Boosler, Bob Saget and many others.
What others say --
Cystic Fibrosis Foundation/Phoenix Suns 65 Roses:
"We broke all records! Thank you for lending your incredible comedian talents in the 2nd Annual MicroAge, 65 Roses Golf Classic.
The Golf Classic raised nearly $42,000 net to fight the number one genetic killer of children. Your entertainment placed everyone in a cheerful mood. Thank you for giving of your precious time."
-- Nanci Freedberg, Executive Director


Spencer Gifts:
"Great job! Your performances....were the hit of our 800 attendee convention. Our Field Managers, Vendors, Licensors and key parent company MCA executives all enjoyed your combination of magical humor, wit and product sales pitch.
We thank you for stealing the spotlight and bringing our products to life thereby leaving a very positive impression upon our Managers."
-- John Hacala, President, C.E.O.
-- John Guest, Sr. V.P., General Merchandise Manager
-- Beth Schlansky, Director of Licensing


Miles, Inc.: (Pharmaceutical Division)
"I would like to thank you for your performance at the Baltimore Marriott Hotel. The entire Baltimore Region of Miles, Inc., sales representatives and managers thoroughly enjoyed the program. Everyone commented how they couldn't stop laughing for one straight hour." -- Lynne Murphy, Regional Sales Manager

Sherwood Country Club:
"I wanted to take the time to thank you for taking time out of your busy schedule to entertain us during our annual Member-Guest Tournament.
Your style, wit and magic were perfect for our event. As you know, we have a very high profile membership, many of which are involved in the Hollywood scene. They tend to be very critical and can make it tough to perform. You passed the test with flying colors. The comments from our members and their guests were numerous and everyone was positive.
In summation, you were a huge hit! I hope someday you can come back again and perform for us. Please feel free to use Sherwood and myself as a reference. Who knows, maybe we could get you back here for Greg Norman's Shark Shootout. Thanks again!" -- Paul Celano, Director of Golf
Rating:
DG, DPG
For ratings guide, click here.

Based: ..in Arizona / based nArizona
..in Phoenix area / based PhoenixAZ
..in Glendale / based GlendaleAZ
Michael Finney may be available for your next special event!

For more suggestions, proceed to the next page.
Click here --
Magicians Roster | Comedians Roster
Or, click on one of the below links --
Music Menu
Fast Index
Entertainers Directory
Home