Visit new page >>>
THE 1975
How To Book THE 1975 For Your Event!
The 1975 may be available for your next special event!



Hits include: "Love Me", "Chocolate",
"UGH!", "Somebody Else", "Sex",
"She's American", "If I Believe You",
"A Change Of Heart", "Medicine",
"The City", "The Sound", "Girls",
"Settle Down", "Sincerity is Scary",
"By Your Side", "Give Yourself a Try",
"Love It If We Made It", "People",
"TooTimeTooTimeTooTime",
"It's Not Living (If It's Not With You),
"Frail State of Mind", "Guys",
"Me & You Together Song",
"The Birthday Party", "Spinning",
"If You're Too Shy (Let Me Know)",
"Part of the Band", "Happiness",
"I'm in love with you".
How to Hire The 1975 For Your Event!
Popular requests:
BOOKING FEE (booking price, booking cost).
The 1975 are an English pop rock band formed in 2002 in Wilmslow, Cheshire.
Now based in Manchester, the band consists of lead vocalist and rhythm guitarist Matthew "Matty" Healy, lead guitarist Adam Hann, bassist Ross MacDonald, and drummer George Daniel.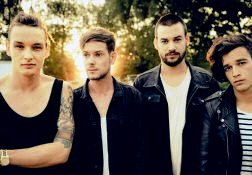 Hire The 1975 for your festival or concert plans.
The 1975 has garnered acclaim for their relevant lyricism and exploration of an eclectic range of genres such as pop rock, synth-pop, R&B, electropop, new wave forms of electronic music (such as UK garage, 2-step and ambient), and forms of rock music (such as shoegaze, post-punk and post-rock), as well as elements of jazz, soul and gospel.
The 1975 have been classified as a pop rock band. Scott Kerr of AllMusic wrote that the band combined "the dark and youthful themes of sex, love, and fear with ethereal alt-rock music."
In February 2021, another Dirty Hit signed musician called No Rome announced he was working on a track featuring The 1975 along with Charli XCX, which would make it the second No Rome single to feature the band after 2018's "Narcissist". The track's title is "Spinning" and was released on 4 March 2021. An EP that Healy and Daniel produced and co-wrote, Beabadoobee's Our Extended Play, was released in March 2021.
In October 2021, Healy opened for Phoebe Bridgers at the Greek Theatre in Los Angeles on her Reunion Tour. He performed two new songs, one called "New York".
Hire The 1975 for your party or event!
The 1975 may be available for your next special event!
Book The 1975, now!
For other great suggestions for booking music acts, look here.

For more suggestions, proceed to the next page.
Click here --
Alternative Music Roster
Or, click on one of the below links --
Music Menu
Fast Index
Entertainers Directory
Home