How To Book 3 DOORS DOWN For Your Event!
3 Doors Down may be available for your next special event!


3 Doors Down is an American rock band from Escatawpa, Mississippi, formed in 1996.
The band rose to international fame with their first single, "Kryptonite", which placed in the top three on the Billboard Hot 100 chart. The band then signed with Republic Records and released their debut album, The Better Life, in 2000. The album was the 11th-best-selling album of the year and was certified 6× platinum in the United States.
In 2005, Greg Upchurch (Puddle of Mudd) joined to play drums to replace Daniel Adair.
Their discography includes six studio albums, four extended plays, twenty-nine singles, one video album and one compilation album.

The band has been primarily described as post-grunge and alternative rock, while occasionally crossing into hard rock, and Southern rock. Their lyrical content contains overarching themes of angst, rebellion, revenge, yearning, and abandonment. 3 Doors Down has sold more than 30 million copies worldwide.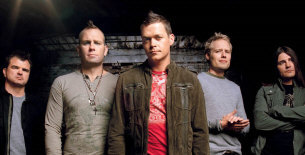 Hire 3 Doors Down for your festival or concert plans.
When radio station WCPR in Biloxi, Mississippi, started getting phone calls for a song by a band from nearby Escatawpa, the staff figured it was hearing from the group's friends and relatives. But then the number of phone calls exploded. "This went way beyond just girlfriends and family calling with requests. I have never experienced phones of this magnitude," WCPR operations manager Kenny Vest told the Biloxi Sun Herald. The song was "Kryptonite," and the group is 3 Doors Down, a four-piece rock band whose beefy sound and explosive dynamics generate a high-impact blend of modern sonics and timeless rock conventions.

Music has always been in the crosshairs for singer-drummer Brad Arnold, bassist Todd Harrell and guitarists Matt Roberts and Chris Henderson. Longtime friends from Escatawpa, each of the musicians felt the call early – particularly Arnold, who as a child would "set up pots and pans when I was little, just beat on stuff, whatever I could find."

Having older siblings, four sister and two brothers, gave the fledging, utensil-banging drummer and his friends a valuable musical grounding. Through his brothers and sister, he developed a taste for commercial rock before graduating to heavier fare. "I kinda like everything," says Arnold. "Everything influences me, everything I hear."


How to hire 3 Doors Down for your special event!
After one of his bands broke up, Harrell hooked up with Arnold and Roberts. The resulting music clicked for all of them. Arnold soon found himself not only pounding the skins but doing the group's singing as well. "I always used to sing to myself when we were playing, "he says. "I was always singing around the house. Then one day I got a microphone, and nobody else would do it, but I did and I enjoyed it." Arnold became the band's lyricist as well, often coming up with material in his high school algebra class.

The trio played its first gig at a friend's party, roaring through a repertoire of four songs. "We knew one by Bush, one by Metallica and a couple of originals," Arnold says. "We played 'em over and over again." The repertoire grew in short order, however, and the group started playing out. One of these road trips – to Foley, Alabama – also netted them a name. We came out of this building, and some of the letters had fallen off the front and it said 'Doors Down,'" Arnold remembers. "At the time there were just three of us, so we said '3 Doors Down.'"

The three became four, when Henderson, who'd played in previous bands with Harrell, was invited in to bolster the group's sound. Now they are five, having added drummer Richard Liles, from nearby Hattiesburg, so Arnold can step out and front the band. Meanwhile, the songs kept coming, and in 1997 3 Doors Down recorded some demos. They pressed a CD to sell at gigs, and fans flocked out to see them live, numbering more than 2,000 per show. That, coupled with the buzz generated by "Kryptonite," brought major labels calling and sent the band to New York City, where it showcased at the legendary CBGB's and was signed by Republic/Universal.

"We like to rock," Arnold says. "We've got good lyrics; everything tells a story," explains Harrell. But ultimately, the bassist and senior member of 3 Doors Down feels the sound is what says the most about the group. "It's a rock 'n' roll band, straight up," Harrell explains. "It's not really alternative or metal or anything – it's rock 'n' roll."
Hit songs include --
Away From The Sun
Be Like That
Duck and Run
Here Without You
It's Not My Time
Kryptonite
Let Me Go
Loser
When I'm Gone
The Better Life
The Road I'm On
Behind Those Eyes
Train
Live For Today
Landing In London (All I Think About Is You)
Let Me Be Myself
When You're Young
Every Time You Go
One Light
In the Dark
Still Alive
The Broken
The Better Life
Hire 3 Doors Down for your party or event!
3 Doors Down may be available for your next special event!
Book 3 Doors Down, now!
For other great suggestions for booking music acts, look here.

Genre: Rock 3
Genre: Rock 2
Styles:
.Alternative Pop/Rock. / AlternativePopRock
.Heavy Metal. / HeavyMetal
.Alternative Metal. / AlternativeMetal
.Post-Grunge. / PostGrunge
.Alternative/Indie Rock. / AlternativeIndieRock
.Contemporary Pop/Rock. / ContemporaryPopRock
.Hard Rock. / HardRock


Years active:
x90s, x00s, x10s, x20s
1996-present

Formed: ..in Mississippi / formed nMississippi
Formed: ..in Biloxi area / formed BiloxiMS area
Formed: ..in Escatawpa / formed EscatawpaMS
Formed: in 1996

Based: ..in US
Based: ..in Mississippi / based nMississippi