Visit new page >>>
311
How To Book 311 For Your Event!
311 may be available for your next special event!


311 (pronounced "three eleven") is an American rock band from Omaha, Nebraska.
On March 11, 2000, 311 began celebrating an unofficial holiday of their own creation, which they called 311 Day. The band chose the date because March 11 is written in the United States as 3/11. Every other year on March 11, the band performs an extended concert for thousands of their fans.
311's music is a blend of rock, reggae, hip-hop and funk. 311 has been described as alternative rock, reggae rock, rap rock, funk metal, funk rock, rap metal, post-grunge, alternative metal and nu metal.
311's influences include The Clash, The Cure, Descendents, Red Hot Chili Peppers, Cypress Hill, De La Soul, A Tribe Called Quest, Led Zeppelin, Bob Marley, Fishbone, and Bad Brains.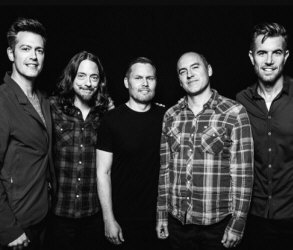 Hire 311 for your festival or concert plans!
All five members of 311 grew up in the 1970's in Omaha, Nebraska. Nick Hexum, Tim Mahoney and Chad Sexton lived on the west side of town and went to Westside High School together. P-Nut and SA Martinez lived on the south side of town and went to Bryan High School together.
During high school, Nick and Tim played in a rock band together called "The Ed's." Nick was also in the high school concert jazz band with Chad.
At seventeen, Nick graduated early from high school and moved to downtown Los Angeles in pursuit of a music career. When Nick returned to Omaha for Chad and Tim's high school graduation - the three of them jammed and realized they had a special musical chemistry. They soon added a keyboardist named Ward Bones and called themselves "Unity." In late '88, Nick, Chad and Ward moved to Los Angeles and made an unsuccessful stab at getting a recording contract.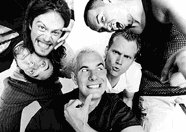 Hire 311 for your very special event or occasion!
Disillusioned with the L.A. scene, Chad soon moved back to Omaha and began jamming with P-Nut and a guitarist named Jim Watson. Months later, Chad persuaded Nick to move back to Omaha and join them. They played their first gig opening for Fugazi on June 10th 1990.
In 1991, they parted ways with Jim Watson and added Tim Mahoney as lead guitarist. At that time, SA Martinez began to make guest appearances with the band - and was eventually added as a full member. 311 was complete (Nick, Chad, Tim, P-Nut and SA).
In 1990 & 1991 the band released three independent records on their own label (What Have You Records). The records were called "Dammit," "Hydroponic," and "Unity." With these records and their solid live show, the band quickly established a following in the Midwest and then set out for the West Coast.
They rented a small house in Van Nuys, California and all moved in together. These were very lean times for the band. Just before disintegrating into total poverty, they were signed to Capricorn Records.
in February of 1993, 311's first CD "Music," was released with little fanfare (now Gold). The band hit the road in support of the record and was temporarily sidelined when their touring RV caught on fire and exploded on the shoulder of the highway. The fire destroyed all their equipment, clothes, money and personal possessions. Despite losing everything - the band members escaped the blaze with minor burns and injuries. They decided to persevere and they only canceled one show before returning to the stage with equipment donated by fans and friends who heard about the disaster on the television news.
In July 1994, they released their second CD "Grassroots" (now Gold). By this time they were touring the U.S. non-stop. They moved out of the house in Van Nuys - put their stuff into a storage space and literally just lived on the road. They put all their energy into their live show and steadily developed an incredible grassroots following nationwide.
In July 1995, they released their third CD "311" and once again set out on tour.
By 1996, the shows and the fan base had grown considerably - and the media which had basically ignored 311 until then, began paying attention. In September of 1996 (14 months after the release of the "311" album) the song "Down" hit the airwaves and became an across-the-board success at radio and MTV. "Down" went to #1 on the Billboard Modern Rock Chart and the follow-up single "All Mixed Up" went to #2.
After the success of the "311" album (which is now triple Platinum), 311 released a long-form home video called "Enlarged to Show Detail" containing live concert footage, interviews, videos, backstage footage, etc. To make it a unique item, 311 bundled the video with a 5 song EP containing outtakes from the "311" CD. The home video debuted at #1 on Billboards Music Video Sales Chart and is now a Platinum video.
After releasing the home video, 311 went back into the studio to record their fourth CD "Transistor." "Transistor" debuted at #4 on the Billboard Top 200 and is now Platinum.
311's 1997 headlining tour in support of the "Transistor" album drew an average of 10,000 people per night in the US. The band also toured Europe, UK, Australia, New Zealand and Japan.
In September 1998, 311 re-issued some old material on the "Omaha Session" EP. The EP contains 9 songs from the bands 1989-1991 independent releases ("Dammit," "Hydroponic" and "Unity").
In November 1998, 311 released "311 Live" - a collection of live recordings from the 1997 US Tour.
In October 1999, 311 released their fifth CD "Soundsystem" which debuted at #9 and the band toured extensively in the US and Japan.
In 2000, the band purchased a recording studio in North Hollywood. After making some renovations and bringing in their own equipment, they renamed it "The Hive" (which is also the name of their fanclub). The studio was active in the 70's / 80's.
In 2001, the band released "From Chaos" which debuted at #10 on the Billboard Top 200 Sales Chart. 311 toured extensively throughout the U.S. and Europe in support of "From Chaos." The first single "You Wouldn't Believe" reached #7 on the Billboard Modern Rock Chart. The second single "I'll Be Here Awhile" reached #15 on the Billboard Modern Rock Chart. The single "Amber" reached #10 on the Billboard Modern Rock Chart and #30 on the Billboard Modern AC Chart. The album is certified Gold.
In 2003, the band recorded and mixed "Evolver" at their own Hive Studios in Los Angeles.
In Summer 2003, 311 launched their inaugural Unity Tour. The tour included openers G. Love & Special Sauce, OAR, and Something Corporate.
In 2004, 311's cover of The Cure's "Love Song" became a No. 1 hit on the Modern Rock Tracks chart.
In mid-2005, 311 kicked off their third annual Unity Tour with openers Papa Roach and Unwritten Law.
On July 20, 2006, 311 kicked off their Summer Unity Tour, playing 37 shows in 27 states and featuring opening bands Pepper and Wailers.
Their Summer Unity Tour in 2007 included supporting acts Matisyahu and The English Beat.
In 2008, they featured opening acts Snoop Dogg and Fiction Plane.
2009's Summer Unity Tour featured opening acts Ziggy Marley and The Expendables, and 2010's featured supporting act The Offspring and opening act Pepper.
In 2011, Sublime With Rome and DJ Soulman & DJ Trichrome were the openers on the Unity Tour.
On May 10, 2012, 311 hosted their second Caribbean Festival Cruise on the Carnival Destiny, departing from Miami and landing on a private island, Half Moon Cay, in the Bahamas for three consecutive nights and featured guest bands including: The Dirty Heads, Shwayze, 2 Skinnee J's, DJ Soulman, among others.
In Summer 2012, 311 embarked on their tenth annual Unity Tour with Slightly Stoopid, SOJA, and The Aggrolites.
On July 2, 2013, 311 started their eleventh annual Unity Tour with Cypress Hill and G. Love & Special Sauce. The tour ended on August 4, 2013.
311's 2013 Caribbean Festival Cruise departed Miami on March 1, 2013. The Caribbean Cruise featured guest bands and comedians including: Rebelution, Less Than Jake, and others.
Hits include:
Down
Love Song
Don't Tread On Me
Creatures (For a While)
All Mixed Up
Come Original
You Wouldn't Believe
Amber
First Straw
Transistor
I'll Be Here Awhile
Flowing
Beautiful Disaster
Prisoner
Do You Right
Don't Stay Home
Beyond The Gray Sky
Speak Easy
Hey You
It's Alright
Sunset in July
Count Me In
Too Much to Think
Good Feeling
Hire 311 for your party or event!
311 may be available for your next special event!
Book 311, now!
For other great suggestions for booking music acts, look here.

Genre: Rock 2
Genre: Rap
Styles:
.Rap-Rock. / RapRock
.Rap-Metal. / RapMetal
.Reggae Rock. / ReggaeRock
.Alternative Pop/Rock. / AlternativePopRock
.Funk Metal. / FunkMetal
.Alternative Metal. / AlternativeMetal
.Nu Metal. / NuMetal


Years active:
x90s, x00s, x10s, x20s
1990-present

Formed: ..in Nebraska / formed nNebraska
Formed: ..in Omaha / formed OmahaNE
Formed: in 1990

Based: ..in US
Based: ..in California / based nCalifornia
Based: ..in Los Angeles / based LosAngelesCA