How To Book 5 SECONDS OF SUMMER For Your Event!
5 Seconds of Summer may be available for your next special event!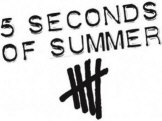 Hits include: "She Looks So Perfect",
"She's Kinda Hot", "Kiss Me Kiss Me",
"Everything I Didn't Say", "Good Girls",
"Don't Stop", "Hey, Everybody", "Fly Away",
"What I Like About You", "Voodoo Doll",
"Heartbreak Girl", "Social Casualty",
"American Idiot", "Waste The Night",
"Broken Home", "Permanent Vacation",
"Vapor", "San Francisco", "Catch Fire",
"Amnesia", "Invisible", "Daylight",
"Castaway", "Safety Pin", "Jet Black Heart",
"Lie to Me", "Easier", "Teeth",
"Money", "No Shame", "Old Me".
How to Hire 5 SECONDS OF SUMMER For Your Event!
5 Seconds of Summer, often shortened to 5SOS (pronounced as '5 sos'), are an Australian pop rock band from Sydney, New South Wales, formed in late 2011.
Originally beginning their career as YouTube celebrities, they rose to international fame while touring with English-Irish boy band One Direction on their Take Me Home Tour. Since 2014, 5 Seconds of Summer have sold more than 10 million albums, sold more than 2 million concert tickets worldwide, and the band's songs streams surpass 7 billion, making them one of the most successful Australian musical acts in history.

In the US, 5 Seconds of Summer became the first Australian act to achieve three number one albums on the Billboard 200 album chart. They also became the first band (not vocal group) to have their first three full-length albums debut at the top in the US.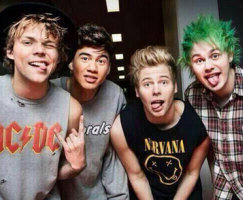 All singles from the band's four studio albums, as well as all four albums, have charted in multiple countries, received multiple official sale certifications, and have been featured in numerous weekly and year-end charts, as well as making an appearance on decade-end charts.

5 Seconds of Summer's musical style has been described as pop rock, pop, pop punk, power pop, and new wave. In 2015, Rolling Stone magazine called them "emo-gone-pop" and John Feldmann of Goldfinger stated that, "[5 Seconds of Summer] is the best pop-punk band I've ever heard". In 2017, Matt Collar of AllMusic described the band as having a reminiscent of "'90s punk-pop" and "2000s boy band pop" in their sound. Through the release of Youngblood and Calm, the band has evolved from their pop-punk roots to explore musical depth within pop, new wave, rock and pop rock. The band's quintessential developing sound has now been described as "classic pop-rock sentiments setting up the layering for the catchy hook."

5 Seconds of Summer have received numerous accolades and awards over the course of the band's active career, including ten MTV European Music Awards, five ARIA Awards, three APRA Awards, three BMI Awards and two MTV Video Music Awards. In 2019, the band was awarded the prestigious APRA Music Awards' Outstanding International Achievement Award for their excellence and outstanding worldwide success in sales and airplay performance.
In 2020, 5 Seconds of Summer were awarded and honored in the APRA AMCOS' The 1,000,000,000 List, which recognizes excellence among Australian songwriting artists who have achieved massive international success. The band was awarded for their single, "Youngblood", reaching over a billion streams. As of this writing, there are only 16 artists in history who have been awarded a position on the list.
Hire 5 Seconds of Summer for your party or event!
5 Seconds of Summer may be available for your next special event!
Book 5 Seconds of Summer, now!
For other great suggestions for booking music acts,
look here.

For more suggestions, proceed to the next page.
Click here --
Rock Music Roster or Alternative Music Roster
Or, click on one of the below links --
Music Menu
Fast Index
Entertainers Directory
Home