Visit new page >>>
50 CENT
How To Book 50 CENT For Your Event!
50 Cent may be available for your next special event!



How to Hire 50 CENT For Your Event!
Popular requests:
BOOKING FEE (booking price, booking cost).
Grammy Award Winning 50 Cent is an American rapper, actor, television producer, and businessman. Born in the South Jamaica neighborhood of Queens, he began pursuing a musical career in 2000, when he produced Power of the Dollar for Columbia Records.

50 Cent has sold more than 30 million albums worldwide and won several awards, including a Grammy Award, a Primetime Emmy Award, thirteen Billboard Music Awards, six World Music Awards, three American Music Awards and four BET Awards.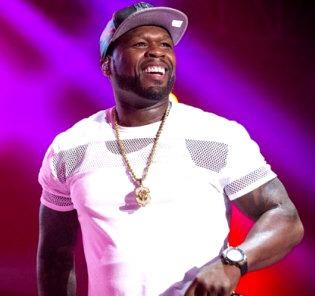 Hire 50 Cent for your festival or concert plans.
He cites Boogie Down Productions, Big Daddy Kane, The Juice Crew, EPMD and KRS-One as his rapping influences, while citing LL Cool J as an inspiration behind his writing of "21 Questions". He also states that he drew influences from Nas, Rakim and The Notorious B.I.G. while working on Animal Ambition.

In 2002, after 50 Cent released the mixtape Guess Who's Back? he was discovered by Eminem and signed to Shady Records, under the aegis of Dr. Dre's Aftermath Entertainment and Interscope Records.

His first major-label album, Get Rich or Die Tryin' (2003) was a huge commercial success. The album spawned the Billboard Hot 100 number one singles "In da Club" and "21 Questions" (featuring Nate Dogg), and was certified 9× Platinum by the Recording Industry Association of America (RIAA). That same year, he founded G-Unit Records, signing his G-Unit associates Young Buck, Lloyd Banks and Tony Yayo, prior to becoming the de facto leader of the East Coast hip-hop group G-Unit.

50 Cent had similar commercial and critical success with his second album, The Massacre (2005), which contained the single "Candy Shop" (featuring Olivia).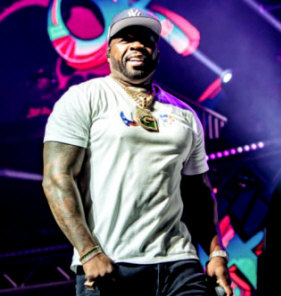 Hire 50 Cent for your very special event or occasion.
In September 2007, 50 Cent released his third album, Curtis, which was inspired by his life before Get Rich or Die Tryin'. It debuted at number two on the Billboard 200, selling 691,000 copies during its first week. It sold behind Kanye West's Graduation, released the same day.

50 Cent was ranked the sixth-best artist of the 2000s and the third-best rapper (behind Eminem and Nelly) by Billboard. Rolling Stone ranked Get Rich or Die Tryin' and "In da Club" in its lists of the "100 Best Albums of the 2000s" and "100 Best Songs of the 2000s" at numbers 37 and 13, respectively.

On February 13, 2022, 50 Cent was a surprise performer in the Super Bowl LVI halftime show, receiving a Primetime Emmy Award for Outstanding Variety Special (Live) in September for the performance.

In 2023, Billboard ranked 50 Cent the 17th best rapper of all time.
His discography includes five studio albums, ten mixtapes, two video albums, four compilation albums, two soundtrack album, 76 singles (including 26 as a featured artist), and 88 music videos.

Hits include:
Down
In da Club
21 Questions
P.I.M.P.
If I Can't
Disco Inferno
Candy Shop
Just a Lil Bit
Outta Control
Hustler's Ambition
Window Shopper
Best Friend
You Don't Know
Straight to the Bank
Amusement Park
I Get Money
Ayo Technology
Get Up
I Get It In
Baby by Me
New Day
First Date
My Life
We Up
Hire 50 Cent for your party or event!
50 Cent may be available for your next special event!
Book 50 Cent, now!
For other great suggestions for booking music acts, look here.

Please proceed to the next page.
Click here --
Rap Music Roster
Or, click on one of the below links --
Music Menu
Fast Index
Entertainers Directory
Home