How To Book 8BALL and MJG For Your Event!
8Ball and MJG may be available for your next special event!



Hits include: "Space Age",
"You Don't Want Drama",
"Space Age 4 Eva",
"Space Age Pimpin'",
"Pimp Hard", "Clap On",
"Bring It Back".
How to Hire 8Ball and MJG For Your Event!
Popular requests:
BOOKING FEE (booking price, booking cost).
8Ball and MJG is an American hip-hop duo from Memphis, Tennessee.
They met at Ridgeway Middle School (Memphis, Tennessee) in 1984. In 1993, the duo released their debut album, Comin' Out Hard. They went on to release On the Outside Looking In (1994), On Top of the World (1995), In Our Lifetime (1999), Space Age 4 Eva (2000), Living Legends (2004), Ridin' High (2007) and Ten Toes Down (2010).
Commercially, one of the high points of 8Ball and MJG's career was their being featured on Three 6 Mafia's hit song, "Stay Fly", in 2005. That song peaked at #13 on the Billboard Hot 100, which is the biggest hit of Three 6 Mafia's career and the biggest hit for 8Ball and MJG. The song was a collaboration between two of the most successful rap groups from the state of Tennessee, whence Three 6 Mafia also hail.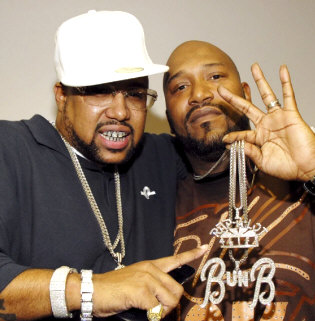 Hire 8Ball and MJG for your festival or concert plans.
Today, 8Ball and MJG also head their own record labels. 8Ball heads 8 Ways Entertainment (distributed by Koch Entertainment), while MJG heads MJG Muzik.
In September 2007, 8Ball and MJG signed deals in Sacramento, California, with Real Talk Entertainment.
8Ball released a group album with E.D.I of the Outlawz entitled, Doin' It Big, on April 1, 2008, and MJG released a solo album entitled Pimp Tight on April 29, 2008. In June 2008, the group announced that they officially signed onto T.I.'s record label, Grand Hustle.
Their eighth album as a group and their first on Grand Hustle, titled, Ten Toes Down, was released in May 2010. It reached #36 on the Billboard 200 in its first week.
Hire 8Ball and MJG for your party or event!
8Ball and MJG may be available for your next special event!
Book 8Ball and MJG, now!
For other great suggestions for booking music acts, look here.

For more suggestions, proceed to the next page.
Click here --
Rap Music Roster
Or, click on one of the below links --
Music Menu
Fast Index
Entertainers Directory
Home