How To Book AARON TIPPIN For Your Event!
Aaron Tippin may be available for your next special event!



Aaron Tippin is an American country musician and record producer.
Aaron Tippin began singing as a child while bailing hay, running combines and plowing the back forty. In order to hear himself over the diesel engine of the tractor, he had to develop some pretty strong vocal cords. That is where it all began for him.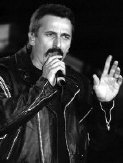 He went to high school in Greer, South Carolina. He played football and ran track. It was during that time that he began hanging out at the airport with his Dad. Learning how to fly and work on airplanes, his career was pretty much set in stone that he would become a professional pilot, like his Dad.
He became a Multi-Engine Instrument Commercial Pilot and flew as a freelance and corporate pilot in route to becoming a major airline pilot. While building flight time and studying for his Airline Transport Rating, the fuel shortage hit and the major carriers started furloughing pilots. That is about the time that he began pursuing the music business.
Aaron Tippin moved to Nashville in 1986, started songwriting pretty heavily and began his quest for a record deal. In 1990, he signed with RCA Records and went on to release on platinum and four gold albums. In 1998, he signed with Disney's Lyric Street Records. His first album on Lyric Street, titled "What This Country Needs" was released in October of that year.
Five million albums down the road, Aaron Tippin finds himself governed by twin passions. One is the clear path that has always captured his imagination.
"I still love playing for the folks," he says. "I love to see people loving the old songs, and to hear them roar when we've done a good job."
The other, embodied in his wife Thea, daughter Charla, and son Teddy, gives purpose to it all.
"After all is said and done," he says, "I depend on my family. That's the most wonderful part of my life, and the real saving grace to me."
"I used to want every record to read like a novel, to follow a theme," he says. "Now I just want to put together the greatest songs I can find."
Aaron's music has always been a mixture of tough and tender, romantic and philosophical. His first hit, "You've Got to Stand for Something," established him as an artist with something to say and showed that he has a compellingly pure country voice to say it with. The record went Top Five and has since been spun more than two million times on radio. Just as important, it helped establish a fanatic fan base that has been with him through thick and thin ever since.
The hits came regularly. "There Ain't Nothing Wrong with the Radio," a song about a car that became a country anthem, soared to No.1, and cemented Aaron's relationship with rowdy fans everywhere. "My Blue Angel" was classic country that established Aaron as a vocalist with an achingly personal style. "Working Man's Ph.D.," "I Wouldn't Have It Any Other Way" and "That's as Close as I'll Get to Loving You" expanded both his fan base and his reputation.
Then, though, there was a period where the hits were harder in coming, and Aaron and his former label parted ways.
"I wasn't sure I wanted to cut records anymore," he says. "The last couple albums I had done, we were cutting all outside material, and it didn't feel like there was much Aaron in the records." Despite his not having a record deal for two years, the fans remained steadfast. They recognized in Aaron a kindred spirit, and with or without current singles he spoke to them musically as few artists had done before – his concerts remained spirited excursions into some of the best and most authentic live country music anywhere.
The first Tippin/Lyric Street collaboration featured "For You I Will," which strengthened Aaron's bond with his fans and opened new chapters in both creativity and chart success that continue with "People Like Us."
Aaron's career successes have brought him a long way from the South Carolina mountains where he grew up. His pilot father helped pass along a love of flying, but Aaron took naturally to country music. While his friends were listening to arena rock, Aaron was playing the honky-tonks. After his teenage marriage ended, he moved to Nashville and threw himself into music.
He competed on the Nashville Network's "You Can Be a Star," landed a publishing deal, and took up a now-legendary regimen, working the midnight shift in a Kentucky factory, writing songs on Music Row during the day, and indulging a passion for weight lifting in the afternoons.
As he began winning weight-lifting competitions, his songs were being recorded by Charley Pride, David Ball, Mark Collie, and others. Soon, his first nightclub show in Nashville earned him a recording contract. He toured with Reba McEntire, Brooks & Dunn, and Hank Williams, Jr., and launched his remarkable career.
Many of the elements of that life are still there. Weight lifting is part of a workout regimen both he and Thea maintain, and his musical tastes remain similar.
"Musically, I'm still about the same guy," he says. "I'm still about classic country, I'm still a big fan of the big bands, and I still love bluegrass."
The business side, while it requires work, is, he says, "a pretty well-greased train, and it rolls down the track pretty steady." He is doing about 90 dates a year, everywhere from big arenas, festivals, and fairs to small theaters and casino stages.
During his down-time, he and his family live on a 300-acre farm well outside Nashville.
"I think the greatest gift a child could have is being raised out in the boonies, because there's so much to learn from nature, and from learning to make some of your own fun," he says.
Aaron Tippin is a major fan of the "boonies" himself.
"That's the most wonderful part of my life, the real saving grace to me," he says. "When I'm really frustrated, I can go to the house and grill some chicken and look out over the Tennessee hills and see if I can hear any turkeys gobbling out there."
Aaron's has been the life of a journeyman, filled with scrapes and scars, requiring a ton of toil to produce every ounce of glamour, but he has made peace with the process.
"I've changed a lot since the early years," he says. "I think I've learned to take the good and bad in stride, and to let the heartache roll off my back. Not every song is going to be a hit, and you learn that what you've got to do is keep moving on. When the record isn't going so well, I can still write another new song or have a great day on the tractor out on the farm. You learn to make good out of what you can."
There is at bottom, though, one part of show business that doesn't grow old for him, and that he knows is in his hands.
"No matter what," he says, "when I go out there on that stage, I can be absolutely in control of what goes on for that hour, and when we get to the end and I've really got 'em – boy, that's when I prove to myself I've still got what it takes to entertain people."
"And that," he adds with smiling self-assurance, "is very fulfilling."
"My musical philosophy is pretty simple," says the honky-tonk hero. "I don't care what is hip and what is cool. I just pick out what I think is the truth and I pursue it. The way I look at it, somebody has got to look out for country music, for its history, for its roots. I figure that somebody might as well be me."
Hit songs include --
Kiss This
That's as Close as I'll Get to Loving You
There Ain't Nothin' Wrong With the Radio
Where the Stars and the Stripes and the Eagle Fly
I Wouldn't Have It Any Other Way
For You I Will
You've Got to Stand for Something
My Blue Angel
Working Man's Ph.D.
I Got It Honest
I'm Leaving
People Like Us
The Call of the Wild
Without Your Love
I'll Take Love Over Money
Come Friday
He Believed
Aaron Tippin may be available for your next special event!
Watch videos:
YouTube

Genre: Country
Styles:
.New Traditionalist. / NewTraditionalist
.Honky Tonk. / HonkyTonk
.Contemporary Country. / ContemporaryCountry
.Traditional Country. / TraditionalCountry
.Acoustic Guitar. / AcousticGuitar


Years active:
x90s, x00s, x10s, x20s
1990-present

Born: ..in Florida / born nFlorida
Born: ..in Pensacola / born PensacolaFL
Born: Jul 3, 1958

Raised: ..in South Carolina / nSouthCarolina

Based: ..in US
Based: ..in Tennessee / based nTennessee