How To Book AEROSMITH For Your Event
Aerosmith may be available for your next special event!


Rock and Roll Hall of Fame
-- inducted 2001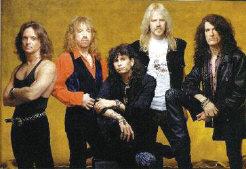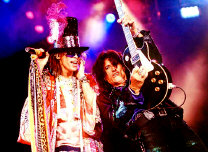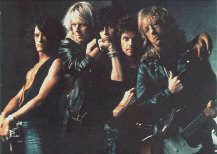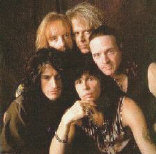 It was in 1971 at a small gig in New York, called Max's Kansas City, where Clive Davis made Aerosmith stars, "Just the way they are!". Clive got them a record deal with Columbia Records, where they released their self-titled album "Aerosmith" in 1973.
From there, Aerosmith toured and moved to Boston. They toured forever and were always taking drugs. They kept releasing albums and taking drugs and touring, and so on. Finally, in 1979, Aerosmith hit bottom. Joe Perry left for a solo career with The Joe Perry Project. Then, Brad Whitford left to pursue a career with Derek St. Holmes.
Steven Tyler decided to find two replacement guitarists (Jimmy Crespo and Rick Dufay). Joe Perry meanwhile had released 3 albums with his band, The Joe Perry Project. Most of the Aerosmith band members decided they had went too far with the drugs and got into rehab.
By 1984 Aerosmith was back together. They went on a "Back In the Saddle" tour. Then, they quit Columbia and moved in with Geffen Records. However, they didn't completely get over the drugs, but they were on their way up.
Finally, in 1987, Aerosmith returned with their album "Permanent Vacation". In 1989, they were declared sober – kicking the drugs completely and released "Pump" in the same year. Aerosmith is back on top once again!
Hits include: "Cryin'", "Deuces Are Wild",
"Falling In Love (Is Hard On The Knees)",
"I Don't Want To Miss A Thing", "Jaded",
"Livin' On The Edge", "Love In An Elevator",
"Nine Lives", "Pink", "What It Takes", "Angel",
"Just Push Play", "Water Song", "Amazing",
"Blind Man", "Taste Of India", "Angel's Eye",
"Dude (Looks Like A Lady)", "Hole In My Soul",
"Get A Grip", "What Kind Of Love Are You On",
"Walk This Way", "What Could Have Been Love",
"Lover A Lot", "Legendary Child".
Aerosmith may be available for your next special event!

Genre: Rock 1
Genre: Rock 2
Styles:
.Classic Rock. / ClassicRock
.Pop-Metal. / PopMetal
.Heavy Metal. / HeavyMetal
.Pop/Rock. / PopRock
.Contemporary Pop/Rock. / ContemporaryPopRock
.Hard Rock. / HardRock
.Album Rock. / AlbumRock
.Arena Rock. / ArenaRock


Years active:
x70s, x80s, x90s, x00s, x10s, x20s

Formed: ..in Massachusetts / formed nMassachusetts
Formed: ..in Boston / formed BostonMA
Formed: in 1970

Based: ..in US

Tag: Italian-American Musical Artists, ItalianAmerican