How To Book AMERICAN ENGLISH For Your Event!
American English may be available for your next special event!


"The Complete Beatles Experience"
Get ready to take a nostalgic trip down memory lane to the era of mini skirts, go-go boots, transistor radios, flower children, psychedelic colors and of course, "The Fab Four." Transform yourself back to the years of 1963 through 1970. Relive the electrifying experience of Beatlemania with incredible detail through the hottest Beatles tribute band in the nation, American English!
The show begins with the early years of Ed Sullivan and includes classic Beatle favorites such as She Loves You, Twist and Shout, I Want To Hold Your Hand, and many others. American English captures the very essence of John, Paul, George and Ringo!
Next, you'll take a trip with American English as they recreate the psychedelic era of The Beatles. Every musical and visual detail is magically shaped in a colorful journey back in time. You'll witness incredible versions of selections from Sgt. Pepper and Magical Mystery Tour. All the songs are performed completely live without any tapes or backing tracks.
And in the end, you'll be transformed to a spectacular musical excursion of the final years of The Beatles partnership. Relive the years of The White Album, Let It Be, and Abbey Road. Moving renditions of songs such as Hey Jude, Something, and Let It Be, are sure to complete The Beatles Experience!
---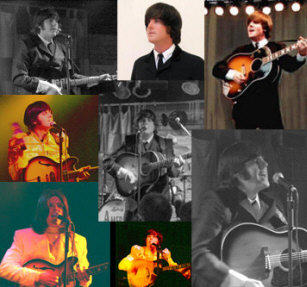 Young Hines as John Lennon
Young Hines brings to the Beatle world his exceptional musical and vocal skills which quickly gained him the status as "The Guy!" Young has an unlimited vocal range, beautiful falsetto and rich timbre for which John Lennon was so famous. Young's vocal are so realistic that he and his former band mates from "The Return" were invited to appear on the ABC network television show, Good Morning America. Young has the vocal ability to belt out screamers like Twist & Shout and Mr. Moonlight, switch to ballads such as, In My Life & Norwegian Wood and then use his uncanny falsetto in songs like Day in the Life & Baby You're a Rich Man. Young's stunning portrayal of John Lennon will surely please even the most die-hard Beatles fans.
---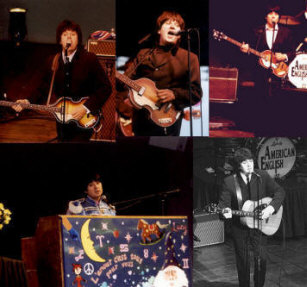 Eric Michaels as Paul McCartney
Eric Michaels and Paul McCartney have several things in common, but perhaps the most striking similarity is that they are both incredibly versatile vocalists. Eric has the power to scream out a raucous rocker like "I Saw Her Standing There" and also the finesse to sweetly sing a tender ballad such as "Yesterday". He is also a multitalented instrumentalist; not only does he play a left-handed HÖfner bass like McCartney, he is also proficient on piano and guitar. Eric's physical resemblance to McCartney combined with his vocal and instrumental talents produce an amazing performance every time!
---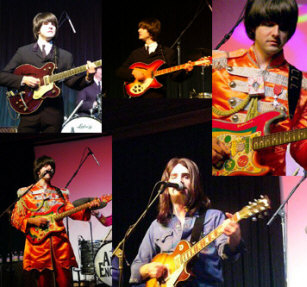 Doug Couture as George Harrison
Doug Couture has found his true calling in the music industry, paying tribute to the "quiet one," George Harrison. As a teenager, Doug spent countless hours of every day playing and singing along to Beatles records, trying to emulate the signature riffs and 3-part harmonies that made The Beatles one of the most influential groups of all time. Doug has spent the last eight years touring the country with several different tribute bands and has received rave reviews for his performance in "BeatleMania." His understanding of George's vocal & guitar style has earned him a reputation as one of the "Best!" Doug's accurate portrayal of George even led him to a consulting job for the making of the "Beatles to A Tee" guitar instructional DVD/Video. As a Beatle's fan, Doug confides that he has lovingly studied and carefully recreated George's persona on stage.
---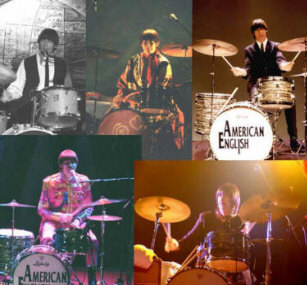 Tom Gable as Ringo Starr
Tom Gable mirrors the very nature of Ringo Starr. Not only does Tom accurately duplicate Ringo's voice in fun loving songs like Yellow Submarine and With A Little Help From My Friends, he completely replicates the wild and unorthodox drumming style for which Starr is known. The owner of The Cavern Club in Liverpool was quoted as saying "Tom's voice is the closest to Ringo's that I have ever heard!"
---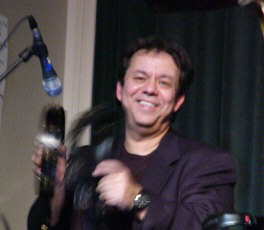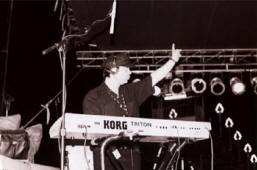 Ken Zemanek, as George Martin, the Beatles producer
Ken Zemanek is the keyboardist and sound architect for American English. He is the ingredient which is missing from almost all other Beatles tribute shows. Ken fills the role of The Beatles producer George Martin by performing all the orchestrations and special effects live, without any tapes or recordings. Zemanek plays all the signature horn parts, strings, flutes, organs, tablas, backwards sound effects, tambourines, cowbells, etc., that are such an important part of the Beatles recordings. Ken Zemanek is endorsed by Korg, USA.
---
What others say --
Sam Leach, the original promoter of the Beatles, and author of "Birth of the Beatles":
"They are without doubt the world's premier Beatle Tribute band. And a great bunch of lads...just like the Beatles were. It amazes me how each individual member of American English is so like his counterpart in The Beatles. In looks, performance and personality. And it's not part of their act but a true reflection of their own self."

Exclusive endorsement of the John Lennon & George Harrison Signature Guitars. David H. Berryman, President, Epiphone Guitars: "Your professional attitude & behavior underscore your incredibly accurate visual and musical tribute to the Beatles. You may truly be the BEST Beatles tribute band in the WORLD!"

Jorie B. Gracen, author of "Paul McCartney: I Saw Him Standing There": "The band is top-notched, energetic, meticulously driven and uncanny with their impersonations of the Fab Four!"

Janet Davies, host of ABC-TV's 190 North: "American English is the best Beatles tribute band in the world!"

Eric Burdon of "The Animals": "These guys are more than a band, they're a Broadway show!"

Dick Biondi, legendary rock n' roll DJ who introduced the Beatles at the Hollywood Bowl and Comiskey Park: "American English is the best Beatle act since The Beatles!!!"

American English may be available for your next special event!

Watch videos
YouTube

Genre: Rock 1
Genre: Tribute
Styles:
.Rock & Roll. / RockNRoll
.Classic Rock. / ClassicRock
.British Invasion. / BritishInvasion
.British Psychedelia. / BritishPsychedelia
.Psychedelic. / xPsychedelic
.Merseybeat. / xMerseybeat
.Pop/Rock. / PopRock
.Britpop. / xBritpop
.Folk-Rock. / FolkRock
.Tribute. / xTribute


Years active:
x90s, x00s, x10s, x20s

Based: ..in US
Based: ..in Illinois / based nIllinois
Based: ..in Chicago area / based ChicagoIL