"America's Most Exciting Family Show"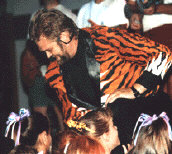 The 1999 Nashville Music Awards Show is over....and The Animal Band won a NAMMY for "Children's Music Recording of the Year" for their CD "Animal Rock."
The Animal Band has been voted "Best Field Trip" (K-5) by educators and students in more than 2200 schools.
The Animal Band and a cast of more than 40 actors, singers and dancers combine upbeat music, positive messages, colorful costumes and hilarious participatory dynamics for an unforgettable, high energy musical extravaganza.
Friendly alien space travelers, firefighters, police officers, unicorn dancers and realistic portrayals of Ben Franklin, Leonardo da Vinci and Dr. Martin Luther King, Jr., are just a few of the ingredients which make this show the most exciting family show in America.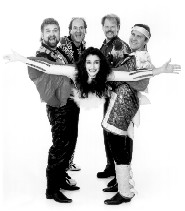 Fun audience participation is an important key to this award winning show's recipe for success. At any moment, the audience may be instructed to stand, flap their wings and crow like a rooster, shout the R.E.A.D. cheer, sing along, or launch themselves out of their seats during the fast paced antics to "Roller Coaster."
The subject matter of this presentation/show covers conflict and resolution, conservation, history, life skills, literacy, self-esteem – and just plain fun.
The live show is a high energy musical extravaganza, representing the best in family entertainment for theatres, arenas, festivals and corporate events. Indoor performances may feature an eye-catching rain forest backdrop with The Animal Band's colorful logo. The set includes 78 three-foot ladybugs which appear to be crawling around the numerous flowers and ferns on stage. The music is a smorgasbord of styles including pop/rock, blues, country, Celtic, reggae and New Orleans jazz.
One of The Animal Band's greatest assets is the skillful use of hilarious participatory dynamics involving both children and adults. During their roller coaster song, the entire audience launches themselves skyward in a fast paced workout. Kids scream with laughter as adults, chosen from the audience, are escorted on stage to wear zany hats and air jam with inflatable instruments during the song "Going To School Blues."
The clever lyrics to the band's songs are brought to life on stage and in the audience with the help of actors wearing unique costumes representing animals, Blues Brothers, friendly green aliens, rainmakers and famous people from history. The festive song Market-Place, pulls the audience into a south-of-the-border style celebration as the isles become filled with muchachos and muchachas with sombreros and maracas.
You can hear a pin drop as Jim sings the ballad "Looks Like Rain." Under the cover of darkness, as lightning flashes and thunder roars, dozens of rainmakers in yellow rain gear, quietly enter the rear of the auditorium. The song becomes reality as the unsuspecting audience is caught in a rain shower. On stage, band members laugh as they hear the screams of joy and laughter......and another audience is added to The Animal Band's fan club.
Lottie Green, Editor of "Be True Arts Magazine" said, "There is absolutely nothing like an Animal Band show. Kids can sing and dance, and adults remember what it was like to be a kid!"
What others say --
Columbus, GA:
"The performance was absolutely wonderful! Our children have not gotten so 'into' a field trip in a long time. They were so hungry after all the participation exercises, they ate everything in sight at lunch. The song lyrics, music and movements are so much fun and reinforce some great principles. We ranted and raved about the show so much that our principal and teachers in other grade levels want to go next year." -- Brenda Robbins, Teacher

New York, NY:
"What a breath of fresh air! I don't believe I've seen a show with so much energy, and which promotes so many good ideas. It's been several months since we saw the show, and the children and teachers are still talking about it. Is it too early to make reservations for next year?" -- David Lin, Guidance Counselor

Mt. Juliet, TN:
"The lyrics appeal to the elementary set for they deal with age appropriate topics. Thank You! The music is not 'juvenile,' but up-tempo, catchy, and most importantly – highly entertaining with a message the elementary set can understand and relate to. I applaud the show for being a good value and VERY ENTERTAINING. I do not know of another field trip, so appropriately priced and well presented that I have taken during the past 20 years I have worked in public education." -- Karen Cropsey, Teacher

Family Fun Magazine:
"They are consummate professionals with exceptional production quality and musicianship. Their songs explore topics near and dear to every child's heart in a particularly engaging fashion."
The Animal Band may be available for your next special event!

Genre: Children's
Styles:
.Children's. / xChildrens

Based: ..in Tennessee / based nTennessee