How To Book ANN HAMPTON CALLAWAY For Your Event
Ann Hampton Callaway may be available for your next special event!



Ann Hampton Callaway is one of the most widely acclaimed singer/songwriters working in pop/jazz today. The award winning artist has received national attention from television audiences for her song "The Nanny named Fran" which she wrote and performs for the CBS television comedy hit "The Nanny."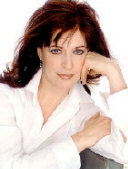 Ann also wrote "At the Same Time" which was performed by Barbra Streisand for President Clinton in Los Angeles and was recorded for Streisand's CD, "Higher Ground" which debuted nationally at #1.
The Cole Porter Estate officially recognizes Ann Hampton Callaway as the only composer to have collaborated with Cole Porter, having set her music to his posthumously discovered lyrics, "I Gaze in Your Eyes" recorded for the Ben Bagley "Cole Porter Revisited" series.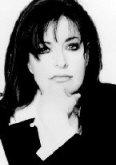 Ann has performed to standing ovations in major venues, concert halls and jazz festivals around the world. She performed a nationally televised show at Moscow's Estrada Theatre and was invited to sing for former President Gorbachev at the Youth Peace Summit. Ann also performed in Washington D.C. for President Clinton. Her performances have been seen on numerous national television shows such as "The Today Show," CNN, "The Charlie Rose Show," "The Oprah Winfrey Show," Charles Grodin, ABC News, PBS and BBC.
The New York Times:
"Her opening night performance of an Ella Fitzgerald signature song poured out a full-bodied confidence that nearly matched that of the legend who made it popular."
The New York Observer:
"In the world of cabaret performers, Ann Hampton Callaway is a silver Bentley in a lot full of used Toyotas."
The Los Angeles Times:
"She has a powerful storytelling quality, enriched by her strong sense of swing, her imaginative improvisational skills and her rare ability to enrich her interpretations with colorful tonal variations."
Washington Post:
"She has a set of pipes that call to mind all manner of brass instruments - seductively muted trumpets, raucous horns, a faraway, mournful French horn."
Notable songs include -- .
Our Time
Do Nothin' Till You Hear from Me
Music
Oh, Lady Be Good
That Old Black Magic
I'm Beginning to See the Light
Fine Romance
Lullaby of Birdland
Nanny Named Fran
Let's Fall in Love
Ann Hampton Callaway may be available for your next special event.

Genre: Vocal
Styles:
.Standards. / xStandards
.Traditional Pop. / TraditionalPop
.Vocal Jazz. / VocalJazz


Years active:
x90s, x00s, x10s, x20s

Born: ..in Illinois / born nIllinois
Born: ..in Chicago / born ChicagoIL
Born: May 30, 1958

Based: ..in US
Based: ..in New York / based nNewYork
Based: ..in New York City / based NewYorkNY

Tag: .Orchestra charts available. / OrchestraCharts