How To Book BONNIE RAITT For Your Event!
Bonnie Raitt may be available for your next special event!



Rock and Roll Hall of Fame
-- inducted 2000
Hits include: "I Will Not Be Broken",
"Love Sneakin' Up On You",
"Not The Only One", "Have A Heart",
"I Can't Make You Love Me",
"Something To Talk About",
"Nick Of Time", "Thing Called Love",
"No Way To Treat A Lady", "Runaway",
"One Belief Away", "Silver Lining",
"Rock Steady", "Lover's Will",
"I Don't Want Anything To Change",
"Don't It Make Ya Wanna Dance",
"Your Gonna Get What's Coming",
"Keep This Heart In Mind", "Slow Ride",
"You Got It", "Come To Me", "You",
"I Can't Help You Now", "All At Once",
"Time Of Our Lives", "Made up Mind"
"Right Down the Line", "Gypsy in Me",
"Used to Rule the World".
GRAMMY AWARD winning Bonnie Raitt is an American blues singer, guitarist, songwriter, and activist.
During the 1970s, Bonnie Raitt released a series of roots-influenced albums that incorporated elements of blues, rock, folk, and country.
She was also a frequent session player and collaborator with other artists, including Warren Zevon, Little Feat, Jackson Browne, The Pointer Sisters, John Prine and Leon Russell.

Bonnie Raitt has received ten competitive Grammy Awards as well as a Grammy Lifetime Achievement Award. She is listed as number 50 in Rolling Stone's list of the "100 Greatest Singers of All Time" and number 89 on the magazine's list of the "100 Greatest Guitarists of All Time".

Singer and guitarist David Crosby has said that Bonnie Raitt is his favorite singer of all time.
The daughter of Broadway star John Raitt and accomplished pianist Marjorie, Bonnie Raitt grew up in Los Angeles in a family of artists and social activists. At age 8, a Christmas gift of a Stella guitar was emblematic. Bonnie's ultimate six-string prowess and singing would ultimately land her a major-label deal by 1971.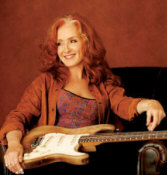 "No one was more surprised than I to get a record contract at 21," she says. "Suddenly my hobby was my career."
"Bonnie Raitt" (1971), her Warner Brothers debut, featured blues classics by Robert Johnson and Sippie Wallace, as well as what would become her trademark mix of R&B, rock, originals and contemporary songs by great, usually little-known, songwriters. It displayed precocious power – chops the performer had honed in East coast coffeehouses and on the road as she'd joined the vanguard of the folk and blues revival.
With six albums in seven years, "Give it Up," "Takin' My Time" and "Home Plate" revealed her strengths as an interpreter of great songs (Jackson Browne, Randy Newman, Alan Toussaint, Eric Kaz). "Sweet Forgiveness" (1977) was a particular highlight, its durability won by years on the road (up to eight months a year), and its accessibility landing Bonnie her first charting single, a funky remake of Del Shannon's "Runaway."
"The Glow," "Green Light" and "Nine Lives" underscored Bonnie Raitt's aesthetic achievement throughout the 80's, gathering three Grammy nominations. She also continued to move to the forefront of artists, demonstrating concern about issues such as nuclear power, the war in central America, apartheid (the "Sun City" project), environmental protection, as well as Native American women's and human rights.
With a new alliance in 1989 with Capitol Records and producer Don Was came Bonnie's breakthrough, the hugely successful "Nick of Time." Garnering four Grammy Awards in 1990, including Best Album, "It was like winning the lottery," she says. "It catapulted the record to #1 and soon I was off on a whole new tour, this time playing to up to 20,000 a night."
With "Luck of the Draw" and its hits, "Something to Talk About" and "I Can't Make You Love Me," the winning streak continued. 1993's "Longing in Their Hearts" followed with more critical and commercial success and "Road Tested," a live tour-de-force double CD and movie, marked the culmination of a career-long dream.
With nine Grammys and virtually non-stop touring under her belt, Bonnie decided to take a break and enjoy some of the well-earned rewards of life off the road. Spending time mountain biking, hiking and doing yoga, enjoying family and friends and traveling for fun instead of work brought her a great sense of renewal and purpose.
Of course, she never really went too far away, managing to sing and play on numerous friends' records (duets with B.B. King, Ruth Brown, guest spots with Keb' Mo', Ladysmith Black Mambazo, Bruce Cockburn, and tracks on the tribute records for Stevie Ray Vaughan, Lowell George, and Pete Seeger) and continuing her "day job" – fundraising, benefits and activism in service to the causes she holds dear.
"The Rhythm and Blues Foundation has been a labor of love," she says of the organization she helped found to improve the financial condition, recognition and royalty rates of a whole generation of R&B pioneers to whom she feels we owe so much.
In 1995, she initiated the Bonnie Raitt Fender Guitar Project with Fender and the Boys and Girls Clubs of America to encourage inner city girls to learn to play guitar. Proceeds from the sales of her Signature Guitar help underwrite the effort.
"I'm so glad that I can do something to offer an opportunity for all those kids who don't have access to instruments and lessons like I did," she says.
Also active in promoting anti-nuke awareness, specifically the issue of dumping nuclear waste on Native American lands, she continues to do concerts to also protect our ancient growth forests and a woman's right to choose.
Bonnie Raitt may be available for your next special event!

Genre: Rock 1
Genre: Blues
Styles:
.Adult Contemporary. / AdultContemporary
.Slide Guitar Blues. / SlideGuitarBlues
.Album Rock. / AlbumRock
.Americana. / xAmericana
.Pop/Rock. / PopRock
.Contemporary Pop/Rock. / ContemporaryPopRock
.Contemporary Singer/Songwriter. / ContemporarySingerSongwriter
.Blues-Rock. / BluesRock


Years active:
x70s, x80s, x90s, x00s, x10s, x20s
1971-present

Born: ..in California / born nCalifornia
Born: ..in Burbank / born BurbankCA
Born: Nov 8, 1949

Based: ..in US