His discography includes 15 studio albums (including two Christmas albums), six compilation albums, more than 40 singles, and 19 music videos. McKnight has sold more than 25 million albums worldwide.
His expansive repertoire has always been rooted in the gospel and jazz on which he was weaned while growing up in Buffalo, New York – reared in a musical family that includes older brother Claude McKnight, a founding member of the vocal group, Take 6.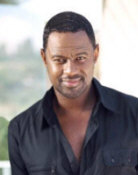 Hire Brian McKnight for your festival or concert plans.
A talent of prodigious proportions early on, Brian McKnight was proficient on keyboards, guitar and trumpet by high school years and leading his first band, a jazz-fusion unit at the age of 17. After tenure at Oakwood, a Christian College in Huntsville, Alabama, he met longtime co-writing partner Brandon Barnes and began recording demos. He signed with the Mercury label at age 19.
His first album, 1992's "Brian McKnight" (which featured the classic ballad, "One Last Cry"), and 1995's "I Remember You" (which included the sterling cover of Van Morrison's "Crazy Love"), achieved platinum status.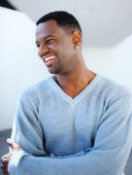 Hire Brian McKnight for your very special event or occasion.
He produced tracks for Boyz II Men's "Christmas Interpretations," scored a Top 3 duet with Vanessa Williams' "Love Is," sang on Quincy Jones' "Q's Jook Joint," appeared on the soundtrack of "The Addams Family," performed "Signed, Sealed, Delivered (I'm Yours)" on the NBA "AT 50" compilation, recorded with Diana King the title track of the Academy Award-winning Muhammad Ali documentary, "When We Were Kings," and has produced Take 6, Chico DeBarge, and Xscape among others.
McKnight's blossoming brand power was in full effect in 1998 when Motown, Mercury's sister label, released Anytime. Collaboration-choked with such A-list players as songwriter Diane Warren, Mary J. Blige, and the Trackmasters production team, the LP's combustive first single, the top 20 pop hit, "You Should Be Mine," a collaboration with hip-hop superstar Sean "Puffy" Combs, immediately took off.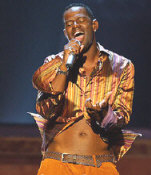 Hire Brian McKnight to entertain at that special anniversary.
However, it was McKnight's own "Anytime," the album's elegant, solemnly soulful title track, that sparked a chart and sales run unprecedented in McKnight's career. "Anytime" garnered 11 award nominations – including 2 Grammys (Pop and R&B Male Singer categories), American Music Award, MTV Music Award, Image Award, and Blockbuster Award – and received a Soul Train Award for Best Male Singer. A triumphant concert tour showcased McKnight as fans had never before witnessed under the white hot lights: dynamic, unusually self-assured, and funny.
Brian McKnight closed out 1998 with "Bethlehem," his very first collection of Christmas songs. He also participated in the inspirational soundtrack from the Dreamworks animated epic "Prince of Egypt" and the accompanying NBC-TV special. Mid-1999 saw McKnight duet with superstar Mariah Carey, a longtime McKnight fan, on the track "Whenever You Call," featured on Carey's multi-platinum #1's album package.
In 2004, McKnight co-wrote the song "Wait" with Australian soul artist Guy Sebastian, which appeared on Sebastian's Beautiful Life album.
In January 2018, Brian McKnight was nominated for two NAACP Image Awards. He was nominated for Outstanding Male Artist and Outstanding Album for Genesis (alongside Bruno Mars, Charlie Wilson, Kendrick Lamar, Jay-Z and Mary J Blige).