By singing about working class life and American heartache and touring endlessly, Bruce Springsteen has become one of the most respected and successful musicians in the world.
After not finding much success after high school in New York City, Bruce played with a string of bands in the New Jersey area, including the Castiles, the Togues, Dr. Soom, and the Sonic Boom. Eventually he hooked up with a popular club band called the E-Street Band (Clarence Clemons, Steve Van Zandt, Danny Federici, Roy Bittan, Gary Tallent, and Max Weinberg) and signed with Columbia Records in 1972.
Together in 1973, they released "Greetings From Asbury Park, N.J." and "The Wild, The Innocent and The E Street Shuffle." The LPs weren't commercial hits, but gained Bruce Springsteen critical attention. While touring in Chicago, Bruce and the E-Street Band began to make a name for themselves and were finding a following by continuing their live performances and staying true to rock. Bruce had become known as the "new Dylan."
For the next few years, Bruce had to battle with his management over his music. By the time Bruce's next LP, "Darkness At The Edge Of Town," was released in 1978, Bruce was competing with "the new wave" sound and Springsteen-wannabes. The LP was a modest hit and continued his ability to tell stories while giving a rock performance with "The Promised Land" and "Badlands."
In 1980, Bruce released the Number 1 LP, "The River," and made it into the Top 10 with "Hungry Heart." Even though the LP was a double-LP, "The River" was a commercial hit.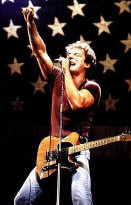 In 1982, Bruce released "Nebraska" which many considered an experimental LP with its raw sound and down-to-basics form. The LP was a sharp departure from his usual work, but was embraced again by critics and Bruce's loyal fans.
In 1984, Bruce released his best-selling LP, "Born In The U.S.A.," which eventually sold more than 15 million copies in the U.S. and is the 7th best-selling LP in U.S. history. The LP spawned 7 Top 10 hits including his Number 1 hit, "Dancing In The Dark." Bruce also hit it big with the songs "I'm On Fire," "Glory Days," "My Hometown," "I'm Goin' Down," "Cover Me" and the title track.
Bruce's audience stretched across music tastes and age groups. "Born In The U.S.A." was also named the 6th Best Album of the 80s by Rolling Stone. The power of the music and the popularity of the videos kept Bruce on tour for more than 2 years, during which he married Julianne Phillips (in 1985, divorced in 1989). In 1984, Bruce also won a Grammy Award for Best Male Rock Vocal Performance for "Dancing In The Dark." In 1985, Bruce's videos were awarded at the MTV Video Music Awards for Best Male Video ("I'm On Fire") and Best Stage Performance In A Video ("Dancing In The Dark").
Bruce's superstar status is largely due to his live performances. He is known for playing over 3 hours per show, and never letting up. He rewarded many of his fans in 1986 by releasing a 5-LP concert LP of his many tours over the years: "Live 1975-85." The LP debuted at Number 1 and although the hype of the set affected later sales, the LP was considered a must for any serious rock music fan.
In 1987, Bruce released "Tunnel of Love" which contained the Top 10 hits "Brilliant Disguise," "One Step Up" and "Tunnel Of Love." The LP found more popularity with the VH-1 crowd than the MTV crowd, but continued Bruce's commercial and critical success. Bruce's lyrics had focused away from blue-collar life struggles and focused more on emotional turmoil.
By 1992, Bruce had toured for a few years, married Patti Scialfa (a former singer with the E Street Band, 1991), and told the E Street Band he was moving on with other backup performers (in 1989). The dissolving of the E Street Band was an effort to expand Bruce's collaborative efforts.
In 1992, Bruce simultaneously released "Human Touch" and "Lucky Town." The LPs were marginal hits but were over-shadowed by other up-and-coming acts. The same year, Bruce performed on MTV Unplugged and released an LP of the performance in Europe the following year (a U.S. release wasn't available until 1997).
In 1994, Bruce recorded a song for Philadelphia about a gay man dying of AIDS: "Streets Of Philadelphia." The song was a Top 10 hit and won Bruce an Academy Award and gave the AIDS fight a lyrical voice on the radio. "Streets Of Philadelphia" also won Bruce 4 Grammy Awards in 1995: Best Male Rock Vocal Performance, Best Rock Song, Best Song Written Specifically For A Motion Picture or For Television, and Song Of The Year. The video for the song also won an MTV Video Music Award in 1994 for Best Video From a Film.
Bruce released his "Greatest Hits" in 1995 with a few new tracks with the E Street Band including "Secret Garden" and "Murder Incorporated." Bruce returned to his folk roots with the release of "The Ghost Of Tom Joad" the same year. The LP was not a commercial success but allowed Bruce to play music he admired and give folk music a boost. The LP did win Bruce a Grammy Award the following year for Best Contemporary Folk Album.
In 1997, Bruce was on radio airwaves again when "Secret Garden" was used in the movie "Jerry McGuire." Also in September, 1997, Bruce's "In Concert / MTV Plugged" was released in the U.S. Previously, the LP was only available as an import. The LP is a collection of 13 songs from Bruce's appearance on MTV Unplugged – in which he "plugged in" and played electric.
Bruce can also be heard on other compilation LPs and soundtracks including: "No Nukes" (1980), "We Are The World" (1985), "Sun City" (1985), "Folkways - Vision Shared" (1988), "For Our Children" (1991), "A Tribute To Curtis Mayfield" (1993), and the "Dead Man Walking" soundtrack (1996, for which he received another Academy Award nomination).
"One Step Up, Two Steps Back: The Songs of Bruce Springsteen," a tribute double-LP to Bruce Springsteen's music by artists such as David Bowie, Ben E. King, Joe Cocker, and Donna Summer was released in September 1997.