Richard De La Font Agency, Inc.

"Providing Excellence in Entertainment Since 1970"
"The Queen of Salsa"
In Memoriam.
Legendary salsa singer Celia Cruz died on July 16, 2003.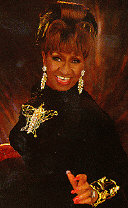 They called Celia Cruz the Queen of Salsa, the greatest female singer to emerge from Cuba. Her rich contralto voice thrilled audiences for more than half a century, first as the toast of 1950's Havana, then in a series of films through the 1950's and 60's, and in the movie of Oscar Hijuelos's book, "The Mambo Kings Play Songs of Love," in which she performed with her regular touring partner, Tito Puente – the King of Mambo. As witnessed by this film, and her duet with David Byrne, "Loco de Amor," in his movie, "Something Wild," she was one of the few Latin stars to have acquired an all-American audience.
Celia left Cuba after the 1959 revolution, along with Cuba's most popular band, Sonora Matancera, and since recorded with all the Latin greats. The salsa song "La Dicha Mia" (My Luck), written for her by Johnny Pacheco, tells of this move and her subsequent musical career. "I left Cuba and headed for New York, looking for another atmosphere" and recorded with "the great Tito Puente," she sings. Next comes "the great Dominican, Johnny Pacheco" ("We caused a sensation."), and collaborations with Willie Colon, Papa Lucca and his Sonora Poncena, and the singer Pete "El Conde" Rodriguez.
The greatness of Celia Cruz was immediately apparent in her performances. On stage, even approaching eighty, she had dazzling energy, sensuality and rapport with the audience, chatting and joking with them, dancing throughout a two-hour set. In the songs, she ad-libbed and improvised with extraordinary style and speed.
Notable songs include ---
Yerbero Moderno
Tu Voz
Pescador
Me Voy a Pinar del Rio
Changó Táveni
Burundanga
Angelitos Negros
Cao Cao Mani Picao
Yembe Laroco
Vamos a Guarachar

Celia Cruz will be missed. Remember her through her music.


Buy this album: "50 Años Cantando Para Ti" (2003)

Buy this album: "Cuba Los Boleros" (2002)

Buy this 2 disc set: "Cocktail Hour" (2001)

Buy this album: "Siempre Vivire" (2000)

Buy this album "La Sonora Matancera" (1999)

Buy this album "Mi Vida Es Cantar" (1998)

Back to Latin Music Roster

Back to Music Menu

Fast Index

Home

Genre: Latin
Styles:
Salsa
Latin
Latin Pop
Latin Jazz
Mambo
Tropical
World/International

Years active:
50s, 60s, 70s, 80s, 90s, 00s

Born:
Oct 21, 1924
in Cuba
in Havana

Died:
Jul 16, 2003

This is not a fan site.