How To Book COWBOY'S NIGHTMARE For Your Event!
Cowboy's Nightmare may be available for your next special event!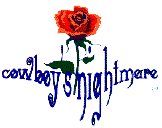 Cowboy's Nightmare is the combination of six female musicians performing their own brand of renegade music. This band is a novelty not only in that the members are all women, but each is an accomplished musician. The musicians' command of several different instruments enables them to increase versatility of their repertoire as well as enhance the visual effects of the stage show.
Cowboy's Nightmare has hit in a big way. Since formation of the group in 1993, there has been high reaction from their audiences. From Santa Fe, to Katy, Texas, the fans flock in a variance of ages.
These girls have worked hard to get the following they have and their hard work is paying off. They shared the stage with living legend Willie Nelson at The Fort Bend County Fair, presenting their original tunes.
Cowboy's Nightmare clients include American Diabetes Foundation, Clute Mosquito Festival, Fort Bend County Fair, Houston Live Stock Show and Rodeo's Bar-B-Que Cook-Off, Katy Rice Festival, NASA Lake Go-Texan Committee, Needville Youth Fair, "Taste of Dallas" and more!
The band also has a support staff, including merchandising, fan club, sound, lighting and staging production.
Notable songs include -- .
All I Need to Know
Fool's Gold
Heart With a Song
Hot Little Mama
Luck
Mamou Mimi
More Like Your Mama
Never Think of Me
Only If I Could Win Your Love
There You Are
Cowboy's Nightmare may be available for your next special event!
Watch videos:
YouTube

Genre: Country
Styles:
.Contemporary Country. / ContemporaryCountry


Years active:
x90s, x00s, x10s, x20s

Formed: ..in Texas / formed nTexas
Formed: in 1993

Based: ..in US
Based: ..in Texas / based nTexas
Based: ..in Houston / based HoustonTX