Richard De La Font Agency, Inc.
Legendary 5-Star Service and Reputation
Providing Excellence in Entertainment Since 1970

Booking The Fabulous Hubcaps
Book the Fabulous Hubcaps
Book '50's-'70's Nostalgia Group, Rock and Roll
Classic Rock, Rock & Roll, 50s, 60s, 70s

Booking Information
Party Bands | Rock & Roll Music Roster
Music Menu
Fast Index | Home | Search
Printable Page
---
How To Book THE FABULOUS HUBCAPS For Your Event!
The Fabulous Hubcaps may be available for your next special event!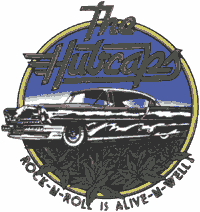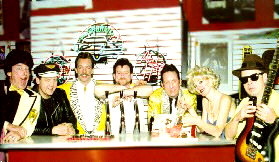 The Fabulous Hubcaps are one of the best musical attractions in the country. This fantastic rock-n-roll group specializes in nostalgic music, and is composed of eight lead vocalists, who are proficient on a number of instruments. Their instrumentation, blended with their rich vocals and harmonies, produces tremendous sound qualities and reinforces their reputation for capturing a true likeness of the artist and the original recording.
The Fabulous Hubcaps provide wholesome, family entertainment through an oldies-style performance that includes numerous costume changes. Depending on the song, they use three saxophones, or two guitars, or multi-keyboards and/or all the percussion instruments.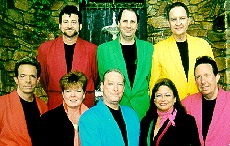 Name recognition and their spotless reputation for quality entertainment annually require the Hubcaps to headline major fund raisers and V.I.P. private affairs with newly acquired demands for private fiftieth birthday parties. They travel throughout the United States and perform more than 200 shows per year.
Their résumé list of special events includes The Kentucky Derby, performing the National Anthem at Camden Yards for the Baltimore Orioles, and the thrill of entertaining the President of the United States and Mrs. Clinton on the South lawn of the White House. Corporate and association clients include the DuPont Company, Pepsi-Cola, Sun Oil, Ericsson, Holiday Inns, The NFL, March of Dimes, American Medical Association, Regional Airline Association, and Amway Corporation.
The Fabulous Hubcaps' tributes and medleys always make a big hit with their audiences. Tributes include: Little Richard, The Everly Brothers, Elvis, The Coasters, The Mamas & The Papas, Connie Francis, The Platters, Buddy Holly, The Beach Boys, Sonny and Cher, Tina Turner and the Shirelles, plus the sound of James Brown, Otis Redding and the hits from Motown.
They have shared the stage with many top acts including The Association, Dan Akroyd, Pat Boone, Mickey Gilley, Blood Sweat and Tears, Donnie and Marie Osmond, Righteous Brothers, Bo Diddley, The Coasters, The Drifters, The Tokens, Jay and the Americans, Lesley Gore, Lou Christie, Freddie "Boom Boom" Cannon, The Vogues, The Marcels, Three Dog Night, Percy Sledge, Gary Puckett, Gene Chandler and Gladys Knight – just to name a few.
What the Hubcaps say about the Richard De La Font Agency:
Richard, it always has been a pleasure for me to communicate with you. Recently, I found what a privilege it is for TSMB Productions, Inc., dba The Fabulous Hubcaps, to share in your client's entertainment plans. Your attention to detail with band needs and requirements are impeccable. By the same token, your sharing with us the detailed wishes of your client's better enables us to give them exactly what they want. The care that you and Marc (Nelson) recently gave to ensure these needs resulted in a most successful event.

On a personal note, in just one day I have already heard from each band member, crew member, and our retail staff, saying how wonderful it was to meet Marc! All told me that Marc was an absolute delight.

Having worked with your agency over the years, I can unequivocally say you are a cut above all the rest. You are top-notch, A-1, and you have my highest recommendation. -- Jane W. Noelle, Mgr.
The Fabulous Hubcaps may be available for your next special event!
Watch videos.
YouTube

Genre: Party
Styles:
.Classic Rock. / ClassicRock
.Rock & Roll. / RockNRoll
x50s
x60s
x70s

Based: ..in US
Based: ..in Maryland / based nMaryland
---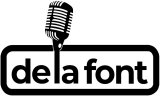 Booking Information
Music Menu
Fast Index | Home | Search

Frequently Asked Questions About How To Hire THE FABULOUS HUBCAPS for a private party or special event.
HOW TO BOOK THE FABULOUS HUBCAPS?
(i.e., how to hire THE FABULOUS HUBCAPS for an event)
You are currently on the official site of De La Font Agency. For more than 50 years, we have successfully helped official talent buyers around the world secure quality talent.
We welcome the opportunity to be of service to you. Let's do this the right way! Let's save you time and frustration!
Simply click on the "Let's Get Started!" link found on this page. Then, send us your request for booking information.
Include information about your plans for your event and how taking steps to hire THE FABULOUS HUBCAPS (or someone similar) might be of special interest.
If you decide you want to look at other names, simply include your talent-fee budget range and indicate that you want to see who else you might be able to afford with such a budget. We can send you a list of names that are affordable and in the style of music you prefer. We hope to save you time and frustration!
HOW MUCH DOES IT COST TO BOOK/HIRE THE FABULOUS HUBCAPS?
(i.e., what is the booking fee to hire THE FABULOUS HUBCAPS for an event?)
(i.e., what is THE FABULOUS HUBCAPS booking fee to perform at an event?)
Official booking fees for THE FABULOUS HUBCAPS, or any other celebrity, are determined based on a number of factors and may change at anytime without prior notice.

Factors influencing pricing vary and may include date, location, type of event, whether a private party or a public concert, the artist's calendar, whether the artist is on tour or not, how well tickets are selling at the artist's concerts, the current demand for the artist's music, market activity, etc.

As you might expect, the more in-demand the artist is, the more buyers are prepared to pay. Of course, this causes the artist's price to increase as the artist becomes more popular or decrease when becoming less popular.

Exclusive agents with exclusive representation frequently quote a range instead of a specific price, since changes can occur at anytime. Generally, the artist's manager has a role in the decision to accept any particular offer from a talent buyer.

To learn the most current artist's pricing, or the estimated artist's fee for your particular event, simply click on the "Let's Get Started!" link found on this page. Then, send us your request for booking information.
IS THE FABULOUS HUBCAPS AVAILABLE TO WORK MY EVENT?
(i.e., what is THE FABULOUS HUBCAPS's availability?)
To learn the artist's current availability for your special event, simply click on the "Let's Get Started!" link found on this page. Then, send us your request for booking information.

Once we have your event/party information, we will be better able to assist you with putting your entertainment talent booking plans in place as your entertainment consultant. Let's get this done right! We look forward to working with you!

This is the month of September update of this page. Artist booking agent available. Artist cost, artist booking fee and artist booking price are available.