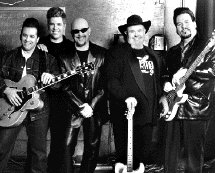 Co-founder Kim Wilson, the sole original member, still spearheads the group as it evolves into its newest incarnation. "We started as a straight blues band," vocalist and harmonica player Wilson says. "We now incorporate a mixture of a lot of different styles. We're an American music band and we're much higher energy than we were before."
"To be in the T-Birds, you need to understand the different styles of music and different ways of playing," Wilson comments. "You have to be willing to adopt a more contemporary style. The guys we have now are able to do that."
The thread though-out the T-Birds career has been the respect the group has commanded for its peerless musicianship and devotion to the sounds of blues, R&B and rock and roll. In fact, Muddy Waters called Wilson his favorite harmonica player and vocalist. "Muddy Watters was very good to me," Wilson says. "He almost adopted me. I'll never forget him."
In 1979, The Fabulous Thunderbirds released their first self-tiled album. Primarily blues influenced, it became a cult classic. "Things were wide open back then," Wilson recalls. "There were hundreds of stages where bands could show what they had."
In subsequent releases, the band started to incorporate more Cajun, rock and roll and soul influences. The album "T-Bird Rhythm" marked a creative turning point for the group as it collaborated with noted producer Nick Lowe. In 1986, The Fabulous Thunderbirds reached a commercial peak with the album, "Tuff Enuff." The single of the same title, as well as the singles "Wrap It Up" and "Look At That," all went Top 40. The song, "Tuff Enuff" was featured in the film, "Gung Ho," starring Michael Keaton.
"The thing about the T-Birds is that we can play both blues festivals and rock venues," Wilson comments. "We're a diversified band now and everyone's on the same page. This is a great time for this band. We're looking forward to the future."
Genre: Blues
Styles:
.Rock & Roll. / RockNRoll
.Blues-Rock. / BluesRock
.Electric Texas Blues. / ElectricTexasBlues
.Modern Electric Texas Blues. / ModernElectricTexasBlues
.Pop/Rock. / PopRock
.Modern Electric Blues. / ModernElectricBlues


Years active:
x70s, x80s, x90s, x00s, x10s, x20s
1974-present

Formed: ..in Texas / formed nTexas
Formed: ..in Austin / formed AustinTX
Formed: in 1974

Based: ..in US
Based: ..in Texas / based nTexas