How To Book THE FOUR TOPS For Your Event!
The Four Tops may be available for your next special event!



Rock & Roll Hall of Fame
-- inducted 1990
Vocal Group Hall of Fame
-- inducted 1999
The Four Tops have been marveling audiences with their unique blend of pure vocal power and unparalleled harmonies since 1954. They have brought to the American people and the world a sound so singular that it is woven into the fabric of American pop music.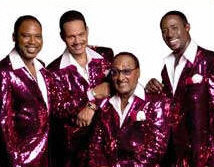 Hits like "Baby, I Need Your Lovin'," "I Can't Help Myself (Sugar Pie Honey Bunch)" and "Reach Out, I'll Be There" topped the charts and became anthems of a generation. The Tops were a sensation abroad as well. At a time when the U.S. charts were dominated by the Beatles and The Rolling Stones, The Tops sat like kings at number one in England.
Later came more hits like "Ain't No Woman (Like the One I Got)," "Keeper of The Castle," "Are You Man Enough" and "Am I My Brothers' Keeper?"
The Tops were stunning audiences with their live performances, sweating their soul on stage proving that their blend of emotional stage persona and unforgettable songs had launched them to the pinnacle of the entertainment world.
In the early 1980's, The Four Tops recorded two albums, showcasing such monster hits as "When She Was My Girl," "Tonight I'm Gonna Love You All Over" and "I Believe In You and Me." Later, they recorded "Indestructible" which garnered rave reviews.
In 1990, The Tops were inducted into the Rock 'n Roll Hall of Fame, and in 1997 were honored with a star on Hollywood Boulevard, adding to their growing list of awards and accolades.
Generations can close their eyes and hear a Four Tops tune and it catapults them to a memory. This group has the distinct pleasure of marking a part of American culture with their music. This is just one of the reasons they are in demand by national advertisers such as Velveeta Cheese, Northwest Airlines, Budweiser, Lincoln-Mercury, Oldsmobile and Old Navy.
Today, The Four Tops are going strong, performing to standing room only crowds all over the world, delighting old and new fans alike. Currently, they perform approximately 80 corporate shows per year as well as 180 concerts, some with full symphony orchestras.
Their powerful, recognizable sweet harmonies and unforgettable voices have firmly established their status in music history as Musical Legends!
Hits songs include --
I Can't Help Myself
Reach Out I'll Be There
Ain't No Woman (Like the One I've Got)
Are You Man Enough
It's The Same Old Song
One Chain Don't Make No Prison
Still Water (Love)
Midnight Flower
It's All In The Game
Catfish
Keeper of The Castle
River Deep - Mountain High
You Keep Running Away
(It's The Way) Nature Planned It
Ask The Lonely
Just Seven Numbers (Can Straighten Out My Life)
Something About You
Sweet Understanding Love
Baby I Need Your Loving
Seven Lonely Nights
The Four Tops may be available for your next special event!
Watch videos.
YouTube

Genre: R&B
Styles:
.Soul. / xSoul
.Motown. / xMotown
.Pop-Soul. / PopSoul
.Early Pop/Rock. / EarlyPopRock
.Uptown Soul. / UptownSoul
.Early R&B. / EarlyR&B
Years active:
x60s, x70s, x80s, x90s, x00s
Formed: ..in Michigan / formed nMichigan
Formed: ..in Detroit / formed DetroitMI
Formed: in 1956

Based: ..in US

Tag: .Orchestra charts available. / OrchestraCharts