"I think we need to take the spiritual experience beyond the walls of church," says Gary Chapman thoughtfully. "That's what I've been trying to do with the majority of my professional life: take my faith to the world through television and through music."
His story began in the tiny town of DeLeon, Texas, where he grew up as the son of a preacher.
In high school, he performed in a school-sanctioned rock band. Indirectly following in his minister-father's footsteps, he attended church-oriented college after high school, where he performed. Gary also felt the call to spread the Gospel. "I thought I would be a preacher, and I went to Bible school for a year and a half. I jokingly say God called me out of Bible school, but I really think he did." Gary Chapman soon found that his true calling was ministering to people through song. Later he moved to Nashville, where he joined the respected gospel group, The Rambos, and began writing songs.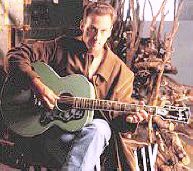 The first performer to record a Gary Chapman song was contemporary Christian singer, Amy Grant, who recorded "Father's Eyes" in 1979. It became a No. 1 song for her, and introduced Chapman and Grant, who married in 1982 and had three children together.
Gary Chapman grew as a musician, producer and songwriter. His song, "Finally," was a No. 1 country hit for T.G. Sheppard in 1982. Other Chapman songs have been recorded by performers who include Amy Grant, Vanessa Williams, Alabama, Lee Greenwood, Kenny Rogers, Steve Wariner, Barbara Mandrell, Kathy Troccoli, and Russ Taff.
Once he began making his own records, the accolades began pouring in. Over the years he has earned three Grammy nominations and six Dove awards from the Gospel Music Association (GMA), including Male Vocalist of the Year and Songwriter of the Year, and he's scored multiple number one hits including "Sweet Glow of Mercy" and "One of Two."
He co-produced the 1994 Dove award-winning album, "Songs From The Loft," featuring artists such as Amy Grant, Michael W. Smith, Susan Ashton and Ashley Cleveland. It was recorded in the barn/recording studio he and Grant built on their farm near Nashville.
As a performer, Chapman released several albums, including "Sincerely Yours," "Happenin'," and on RCA, "Everyday Man." His 1994 Reunion Records album, "The Light Inside," resulted in a Grammy nomination for Best Pop/Contemporary Gospel Album and a Dove nomination for Male Vocalist of the Year.
"The Light Inside" became one of 1994's top contemporary Christian albums and served up hits such as "Treasure," "Sweet Jesus" and the No. 1 song, "Sweet Glow of Mercy." His 1996 album, "Shelter," delivered the No. 1 hit, "One of Two," and received a 1997 Grammy nomination for Best Pop/Contemporary Gospel Album.
In April, 1996, Gary Chapman was honored as Male Vocalist of the Year by the GMA. In the same year, he earned Dove awards for Inspirational Recorded Song of the Year ("Man After Your Own Heart") and Special Event Album of the Year ("My Utmost For His Highest").
Chapman's wit and humor led to co-hosting duties at 1995's Dove Awards.
In late 1995 Chapman hosted two televised specials for TNN based on the concerts: "Sam's Place" and "A Sam's Place Christmas." In 1996, after an eight-episode, on-camera tryout, he was named new host of "Prime Time Country."
His easy, witty style has made him a popular host and emcee. He is now heard on more than 200 radio stations with the weekly syndicated Christian music countdown, "CCM Countdown with Gary Chapman," and serves as host of TNN's daily variety show, "Prime Time Country with Gary Chapman."
Yet, with all his varied duties, Gary Chapman admits his first love is still making music. "Singing is a total escape for me," he says. "I love losing myself in a song. There is a place you can go when you really lean into a song – you're completely alone and yet you're not."