How To Book DARYL HALL and JOHN OATES For Your Event!
Daryl Hall and John Oates may be available for your next special event!


Beginning with their first hit in 1974 and lasting well into the '80s, Daryl Hall and John Oates' smooth, catchy take on Philly soul brought them enormous success, including six number one singles and six platinum albums.
Hall & Oates' music was remarkably well-constructed and produced; at their best, their songs were filled with strong hooks and melodies that adhered to soul traditions without being a slave to them by incorporating elements of new wave and hard rock.
On their first records – "Whole Oates" (1972), "Abandoned Luncheonette" (1973), "War Babies" (1974) – the duo were establishing their sound, working with producers like Arif Mardin and Todd Rundgren and removing much of their folk influences. At the beginning of 1974, the duo relocated from Philadelphia to New York.
After they moved to RCA in 1975, the duo landed on its successful mixture of soul, pop and rock, scoring a Top Ten single with "Sara Smile." The success of "Sara Smile" prompted the re-release of "She's Gone," which rocketed into the Top Ten as well. Released in the summer of 1976, "Bigger than the Both of Us" was only moderately successful upon its release. The record took off in early 1977, when "Rich Girl" became the duo's first number one single.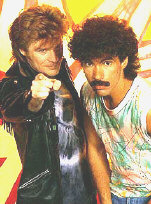 Although they had several minor hits between 1977 and 1980, the albums Hall & Oates released at the end of the decade were not as successful as their mid-'70s records. Nevertheless, they were more adventurous, incorporating more rock elements into their blue-eyed soul. The combination would finally pay off in late 1980, when the duo released the self-produced "Voices," the album that marked the beginning of Hall & Oates' greatest commercial and artistic success.
The first single from "Voices," a cover of the Righteous Brothers' "You've Lost That Lovin' Feeling," reached number 12, yet it was the second single, "Kiss on My List" that confirmed their commercial potential by becoming the duo's second number one single; its follow-up, "You Make My Dreams," hit number five.
They quickly released "Private Eyes" in the summer of 1981; the record featured two number one hits, "Private Eyes" and "I Can't Go for That (No Can Do)," as well as the Top Ten hit "Did It in a Minute." "I Can't Go for That (No Can Do)" also spent a week at the top of the R&B charts – a rare accomplishment for a "white" act.
"H20" followed in 1982 and it proved more successful than their two previous albums, selling more than two million copies and launching their biggest hit single, "Maneater," as well as the Top Ten hits "One on One" and "Family Man." The following year, the duo released a greatest-hits compilation, "Rock 'N Roll Soul, Part 1," that featured two new Top Ten hits – the number two "Say It Isn't So" and "Adult Education."
In April of 1984, the Recording Industry Association of America announced that Hall & Oates had surpassed the Everly Brothers as the most successful duo in rock history, earning a total of 19 gold and platinum awards.
Released in October of 1984, "Big Bam Boom" expanded their number of gold and platinum awards, selling more than two million copies and launching four Top 40 singles, including the number one "Out of Touch."
The title of their first album in seven years suggests a place of wide open spaces and unlimited possibilities. "Marigold Sky" finds Daryl Hall and John Oates building on their pioneering rock, soul and pop musical hybrid by continuing to creatively blur the lines between genres.
The Philadelphia-originated duo is one of the most popular and enduring collaborations of the rock era – according to Billboard magazine they are the best selling duo of all time. They are eligible for the Rock and Roll Hall of Fame.
Hit songs include --
Do It For Love
I Can't Go For That (No Can Do)
It Came Upon A Midnight Clear
Kiss On My List
Maneater
Out of Touch
Private Eyes
Say It Isn't So
Everything Your Heart Desires
One On One
Sara Smile
Method of Modern Love
You Make My Dreams
Family Man
I'll Be Around
She's Gone
So Close
Forever For You
Adult Education
Missed Opportunity
Daryl Hall and John Oates may be available for your next special event!
Watch videos
YouTube

Genre: Rock 1
Styles:
.Classic Rock. / ClassicRock
.Contemporary Pop/Rock. / ContemporaryPopRock
.Blue-Eyed Soul. / BlueEyedSoul
.Pop/Rock. / PopRock
.Folk-Rock. / FolkRock
.Soft Rock. / SoftRock
.Pop. / xPop


Years active:
x70s, x80s, x90s, x00s, x10s, x20s

Daryl Hall --
Born: ..in Pennsylvania / born nPennsylvania
Born: ..in Pottstown / born PottstownPA
Born: Oct 11, 1946

John Oates --
Born: ..in New York / born nNewYork
Born: ..in New York City / born NewYorkNY
Born: Apr 7, 1948

Formed: ..in Pennsylvania / formed nPennsylvania
Formed: ..in Philadelphia / formed PhiladelphiaPA
Formed: in 1972

Based: ..in US