How To Book HAUTE CHILE For Your Event!
Haute Chile may be available for your next special event!


What's Hot? – Haute Chile
For the discerning client, when only the best will do!
High end entertainment!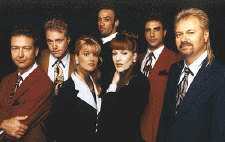 Their spicy blend of the hits, both past and present, has established Haute Chile (hoat' chill'-eh) as the main ingredient to make any special event a smashing success. Known for their award winning video, Haute Chile's reputation precedes them, both stateside and abroad. With a sophisticated twist, these world class musicians render the best of Motown, classic rock, jazz, the standards, disco, current hip-hop favorites – and a taste of salsa. This versatility has made them a favorite of the discerning client.
Furthermore, with highly energized choreography and a highly stylized look, this nine piece group offers four outstanding vocal talents. April Doyle and Pam Parker are quite possibly two of California's finest, having made names for themselves as dynamic leads for many popular bands, both local as well as abroad. In the spotlight and shining brightly is Mark Jones and Koko Powell, the band's "haute" lead singers and bassists. Already well known as one of Los Angeles' finest, Mark's on-stage performance is nothing short of stellar. Koko adds a soulful flare with his powerful musicianship and his show stopping renditions of pop and R&B favorites.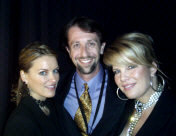 Marc Nelson
of Richard De La Font Agency
with Haute Chile members:
Sara LaPorte, Angel O'Brien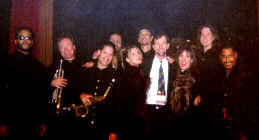 Marc Nelson (white shirt)
of the Richard De La Font Agency
with members of Haute Chile
Combine this with the explosive back beat provided by Tony Torres, and Haute Chile's critically acclaimed funky, salsa horn section and you've got the ultimate Continental Fiesta!
Haute Chile is the high energy, sophisticated, and versatile thoroughbred of show bands. Tailoring themselves to your needs, this band can play everything from the elegant cocktail hour to the full blown after party. Haute Chile has become a favorite amongst the Fortune 500 and society crowd, not to mention the top production companies nationwide. Haute Chile's DVD, featuring some of the best musical talents the West Coast has to offer, holds the honor of receiving the international Clio Award in advertising for being the best in its field. Haute Chile's concert style presentation and long list of exclusive clientele and credits have established this band as the standard to make any special event a smashing success.
Click here for: Song List of Haute Chile
Whether it is a private soiree or a large corporate event, Haute Chile will tailor itself to your special needs. Here are some of the group's configurations, which can help to make your event a truly memorable one...
Haute Chile Grande – Take this already explosive mix, add another powerhouse vocalist to the front line and add the full Haute Chile horn section. This is Haute Chile at its grandest!


Haute Jazz –
For cocktails or dinner, the group breaks down to a three or four piece ensemble, which plays a wide variety of contemporary, Latin and jazz standards. Their sultry chanteuse, April Doyle may be added to lend an element of sophistication to the group with her smooth as silk vocalizations of both classic standards and smoky torch songs.


Haute Soiree –
A stylish touch to any cocktail or dinner hour, Haute Soiree creates an atmosphere reminiscent of the Paris jazz clubs of the 1940's. The continental flair is captured with a mixture of light jazz, featured vocal numbers from Cole Porter to Edith Piaf, Classic Torch Songs, and Elegant Costuming. Voila!


Awards & Presentations –
This talented group can provide the perfect instrumental underscoring for your awards ceremony, presentation or recognition dinner. Haute Chile can play renditions of popular songs, including Broadway/Film scores or regional favorites. You may choose to have the group write an original score to fit any occasion or meeting theme. Haute Chile is proud to have several of the country's leading jingle writers in the band. Music by Reggie Ashley and Mark Jones can be heard regularly on both radio and television advertisements.
Every event is unique. Haute Chile prides itself on being able to cater to the highly specialized needs of both corporate meetings and social occasions. From the sophisticated cocktail party, to the storybook wedding, from award ceremonies, to non-stop, high energy dance music – it's Haute Chile when only the best will do!
Notable reviews include --
Symitar, a Jack Henry & Associates Company
"Describe Haute Chile in three words...HOT, HOT, HOT! With just the right blend of musicianship, enthusiasm and ability to connect with the crowd, Haute Chile's contribution to our closing event was an evening full of high-energy, great music, and dance 'til you drop fun! Conference attendees consistently commented on what a great band they were, and to be sure to bring them back next year. We decided that evening Haute Chile was definitely on the agenda for our next Conference. Thanks so much for making our annual conference a huge success."
-- Tanya M. Reas, Marketing Representative
Notable clients include --

American Cancer Society
American Express
American Moving and Storage
Ameritech
Anheuser Busch
AT&T
Bally's -- Las Vegas
Bellagio -- Las Vegas
Bell Atlantic
BMW
Caesars -- Tahoe
Century 21
CNN
Direct TV
ERA
Firestone Building Products
Glaxo Pharmaceuticals
General Dynamics
Goodyear Tire
Hewlett-Packard
House of Blues -- Los Angeles
Hugh Heffner
Insurance Planner Conference of America
Jane Fonda Lifetime Achievement Ceremony
Jefferson Pilot
Johnson & Johnson
KPMG Peat Marwick
Lucent Technologies
McDonald's
MCI
Meeting Planners International
Mesaba Airlines
MGM Grand -- Las Vegas
Mirage/Treasure Island -- Las Vegas
Morgan Stanley Dean Witter
New England Financial
Nortel
NorWest Mortgage
Ortho Biotech
Pacific Bell
Paris Hotel & Casino -- Las Vegas
PepsiCo
Price Waterhouse
Prudential Insurance
Republican National Convention
Ritz-Carlton Hotels
Seagram's
Sea World
Sharp Healthcare Foundation
Shearson Lehman
State Bar of California
Super Bowl XXXII
Symitar
Sysco Systems
Toyota
U.S. Dept. of Defense -- Japan, Germany
Venetian -- Las Vegas
Windstar Communications
Young Presidents Organization

Opened for --
Haute Chile may be available for your next special event!

Genre: Variety
Genre: Jazz
Genre: Party
Styles:
.Classic Rock. / ClassicRock
.Disco. / xDisco
.Motown. / xMotown
.Standards. / xStandards
.Hip-Hop. / HipHop
.Salsa. / xSalsa
etc.
Based: ..in US
Based: ..in California / based nCalifornia
Based: ..in San Diego / based SanDiegoCA
Based: and
Based: ..in Los Angeles / based LosAngelesCA