How To Book Huey Lewis and The News For Your Event
Huey Lewis and The News may be available for your next special event!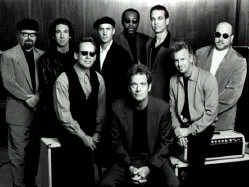 Huey Lewis and the News have been defying the rock odds-makers for more than two decades. Their contagious brand of straight-ahead rock 'n' roll has outlasted countless trends, selling more than 30 million albums worldwide in the process.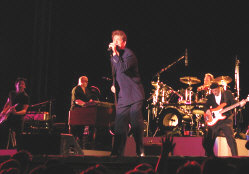 They've carried the banner as the quintessential American rock band, endearing them to millions of fans and earning them the right to mark their place on the pop history map. With favorites, like 1983's "Heart and Soul," 1984's "I Want A New Drug," their beloved anthem "The Heart Of Rock 'n' Roll" and 1986's "Stuck With You," all culled from their back-to-back multi-platinum albums, "Sports" (1983) and "Fore!" (1986).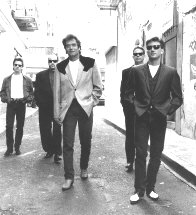 In addition, their infectious "Power Of Love," from the 1985 hit film "Back To The Future," which went all the way to Number 1 on Billboard's singles chart (the band's first chart-topper) was nominated for an Academy Award.
Huey Lewis and the News have been stoking the rock fires since their humble beginnings in Bay Area rock clubs of the 1970's. Formed officially in 1979, their only formula has been to perform and record with sweat on their brow, and their heart and soul firmly planted on their sleeves. They have delivered multiple albums worth of bustling, optimistic music that fan the flames of rock 'n' roll's more spirited roots.
The News, which features saxophonist Johnny Colla, drummer Bill Gibson, guitarist Stef Burns, keyboardist Sean Hopper, and new bassist John Pierce, who replaces outgoing member Mario Cipollina, have always been known as musician's musicians. From Huey's legendary shows with his former band Clover in the late '70's, to the News' Bay Area reputation as rock troubadours (a little known fact is that some of the members performed backup on the first Elvis Costello album), to their critically acclaimed homage to rock and R&B on the 1994 album "Four Chords And Several Years Ago," the band's simple mantra, according to Huey, has been to "always keep it pure, keep it honest."
Hit songs include --
Cruisin'
Heart and Soul
Hip To Be Square
Jacob's Ladder
Stuck With You
The Power of Love
Doing It All For My Baby
Perfect World
Back In Time
Couple Days Off
But It's Alright
If This Is It
I Want A New Drug
The Heart of Rock & Roll
Do You Believe In Love
Some Kind of Wonderful
I Know What I Like
100 Years From Now
Trouble In Paradise
Walking On a Thin Line
Huey Lewis and The News may be available for your next special event!

Genre: Rock 1
Styles:
.Classic Rock. / ClassicRock
.Rock & Roll. / RockNRoll
.Pop. / xPop
.Pop/Rock. / PopRock
.Contemporary Pop/Rock. / ContemporaryPopRock
.Bar Band. / BarBand
.Album Rock. / AlbumRock


Years active:
x80s, x90s, x00s, x10s, x20s
1979-present

Huey Lewis --
Based: ..in US
Born: ..in New York / born nNewYork
Born: ..in New York City / born NewYorkNY
Born: Jul 5, 1950

Band --
Formed: ..in California / formed nCalifornia
Formed: ..in Corte Madera / formed CorteMaderaCA
Formed: in 1979