How To Book KEITH SWEAT For Your Event!
Keith Sweat may be available for your next special event!



How to Hire KEITH SWEAT For Your Event!
Keith Sweat (born July 22, 1961) is an American singer, songwriter, record producer, and an early figure in the new jack swing musical movement.

In 1992, Sweat discovered the group Silk, and helped craft their debut album, Lose Control, which hit No. 7 on the Billboard 200 album chart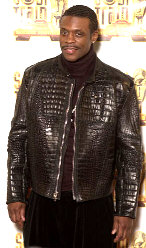 Hire Keith Sweat for your festival or concert.
Keith Sweat's sudden emergence on the music scene in the late 80's literally changed the R&B world forever. But his real gift has always been the ability to follow it up time after time, never holding back, always delivering great, powerful music.
Comfortable isn't the only adjective one would use to describe Sweat's methodology. He has always seemed to both soothe and provoke our musical instincts over the years. The unassuming Keith Sweat first swooped down on the club world with his 1987 multi-platinum smash "Make It Last Forever," which single-handedly altered the club and R&B scenes in one amazing blow.

Hire Keith Sweat for your company's special event.
He dropped his very own homemade bomb of sorts on the music world by mixing traditional R&B stylings with hip-hop's fierce edge. Credited with a lot of the "new jack" flavor which peppered most of the late 80's early 90's soul, revered critic Nelson George dubbed him "the Luther Vandross of the hip hop generation."
Keith Sweat cemented his place in R&B history by following up with three other stellar albums over the years – "I'll Give All My Love To You," "Keep It Comin'" and 1994's "Get Up On It," along with his debut LP have collectively sold nearly 8 million copies. The albums spawned a myriad of pop and R&B hits, with the first three LP's topping the Billboard R&B chart.
The modest Sweat plays down the tremendous strain this kind of success can put on an artist, and continues to deftly juggle a club/restaurant and production office/home studio and label (Kiea), all the time while maintaining his own career.
Hit songs include --
I Want Her
I'll Give All My Love To You
Keep It Comin'
Make You Sweat
Nobody
Twisted
Make It Last Forever
Merry-Go-Round
Why Me Baby?
Something Just Ain't Right
Your Love
Come and Get With Me
Don't Stop Your Love
How Do You Like It?
Get Up On It
I'm Not Ready
I'll Trade (a Million Bucks)
Real Man
One on One
Suga Suga Suga
Test Drive
Make You Say Ooh
Good Love
Just the Two of Us
Tonight
How Many Ways
Boomerang
Can't Nobody
Hire Keith Sweat for your party or event!
Keith Sweat may be available for your next special event!
Book Keith Sweat, now!
For other great suggestions for booking music acts,
look here.

Concert Schedule – by Ticketmaster
Concert Schedule – by Live Nation
Genre: R&B
Styles:
.Contemporary R&B. / ContemporaryR&B
.New Jack Swing. / NewJackSwing
.Club/Dance. / ClubDance
.Urban. / xUrban


Years active:
x70s, x80s, x90s, x00s, x10s, x20s
1975-present

Born: ..in New York / born nNewYork
Born: ..in New York City / born NewYorkNY
Born: Jul 22, 1961

Based: ..in US
Based: ..in Georgia / based nGeorgia
Based: ..in Atlanta / based AtlantaGA