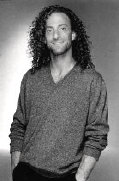 Kenny G says, "My inspiration comes from many different places and at very unexpected times. That's the beauty of creativity. I feel that really experiencing the moments of our lives is the only way to really live."
After his mother rented his first saxophone, Kenny played in the school bands. His musical education, however, consisted mainly of him staying home and practicing along with records (mostly of Grover Washington Jr.) trying to emulate the sounds that he was hearing. Kenny's high school band director got him his first professional job as sax soloist for a Barry White show in his hometown of Seattle. Kenny was just 17 years old.
At the University of Washington, Kenny's college band director (Roy Cummings) encouraged him to listen to some of the all-time great sax players such as Charlie Parker, John Coltrane and Sonny Rollins and this increased Kenny's musical vocabulary. During these college days (1974 - 1978) Kenny played with a local soul group called Cold, Bold & Together.
22 year old Kenny Gorelick joined Jeff Lorber's band and toured the USA for the first time. It was during this stint that Arista Records President, Clive Davis saw Kenny play and later approached Jeff Lorber with the idea of a Kenny Gorelick solo album. His debut album, "Kenny G" was recorded in 1982.
The next two albums, "G-Force" and "Gravity" were collaborations with producer Kashif and the late Wayne Braithwaite. "I learned a lot about producing and writing during this period and also what kind of music was really me."
But it wasn't until 1986 with his fourth album, "Duotones," Kenny felt that his true voice finally came out. Kenny played all of the instruments on the first single, "Songbird" and produced the sound that has been his signature ever since "Songbird" went to # 4 on the Billboard Pop Chart. Next, the self-produced, multi-platinum, "Silhouette," Kenny's fifth album, produced the mega-smash "Silhouette."
Kenny wrapped up the '80s with his sixth and only double album to date, "Kenny G Live," which Kenny says "captured the live experience that I felt was more of a true representation of my sound." Kenny's first full length home video was also derived from this project. "Kenny G Live" has sold more than three million units nationally and the video is double platinum.
"Breathless," the seventh album for Kenny, made history and broke chart and sales records. The album set a record by staying # 1 on the Contemporary Jazz Chart for more than 100 weeks and made history by becoming the # 1 Instrumental Album of all time and propelling Kenny G into the superstar universe and the #1 Instrumentalist of all time. The single, "Forever In Love" from the album earned him a Grammy Award and the album stayed on the Billboard Pop Album Chart for 4 years after its release.
What is now a holiday classic, Kenny G's eighth album, "Miracles: The Holiday Album" (released in '94), shattered a long standing record to become the biggest selling holiday album in history and the only holiday album to reach # 1 on the Billboard Album Chart in three decades. "I was reluctant to record a Christmas record as I thought that making a Christmas album was in some way making a religious statement. But after first experimenting with the recording of 'White Christmas,' all I heard was a beautiful song with a beautiful melody and I was hooked."
Kenny G has pioneered his career with his distinctive "sax sound" which blossomed into # 1 albums, # 1 singles, Grammy, Billboard and American Music Awards, sold-out tours and eventually re-writing chart history. His accomplishments are impressive by any artist standards, many are unprecedented by any other instrumentalist.