How To Book KENNY WAYNE SHEPHERD For Your Event!
Kenny Wayne Shepherd may be available for your next special event!



Kenny Wayne Shepherd
"Every time you play," says Kenny Wayne Shepherd, "it's important. It doesn't matter if it's a little club somewhere or a big arena with thousands of people – you make a connection. Blues is about real life, real feelings. You can make them feel it."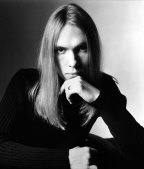 With the release of "Ledbetter Heights," his debut Revolution Records (formerly Giant Records) album, Kenny quickly climbed the charts. He had three top 10 single tracks on the rock charts along with holding the #1 position on Billboard Magazine's Blues Chart for more than five months.
Kenny Wayne Shepherd was exposed to a variety of music at an early age, and his father's career in radio offered access to entertainers from the rock, pop and country worlds. But the spark that would become a burning passion was struck by legendary bluesman, Stevie Ray Vaughan.
"When I was about seven," Kenny recalls, "we went to hear Stevie. He lifted me up on his amp case on the side of the stage, and I sat there the whole time, watching him play. I was hooked, man. I started asking my dad for a guitar right after that, and I finally got one about six months later."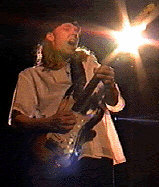 While his friends listened to typical pop fare, Kenny Wayne Shepherd found himself drawn to the deeper message of the blues. Still a child, he dove headlong into a serious study of the masters, developing uncanny takes on their individual styles.
"You listen to all these different artists, and you sort out the ones who really punch your button. I listened to Muddy Waters a lot, and some of my other favorites were Albert Collins, Howlin' Wolf, B.B. King, Jimmie Vaughan and Stevie, of course. But I'd have to say that Albert King was the one who hit me hardest. He was just so original. He had his own thing."
By 13, Kenny's considerable gifts were evident, at least to his family and friends. Never having played in front of a crowd, however, he was still unsure of his own abilities until a family trip to New Orleans, where he encountered local guitar legend, Bryan Lee. After much persuading, Lee was convinced to let "the kid" sit in. Kenny blew the crowd away, and he and Bryan began a friendship that continues today. The event served as proof to the young guitarist that he could, and should, pursue his music career.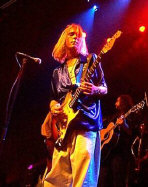 Kenny began sitting in with other performers and formed his own band. Appearances at clubs and festivals soon followed. The buzz began among the blues elite: "Have you heard about this kid from Shreveport?"
Kenny met and jammed with many of his heroes, earning accolades from each. He also played on posthumous Willie Dixon and Albert King releases, which featured Kenny adding licks to sides that the legendary bluesmen had cut before their deaths. Inevitably, word spread to the highest branches of the music industry, and Kenny was signed to Revolution Records by Irving Azoff in 1993.
In May '95, as they wrapped production on the album, Kenny Wayne Shepherd and his band were asked to open for The Eagles at Austin's Memorial Stadium. Their four-song set left Azoff shaking his head in wonder: "He is truly a phenomenon. He plays like someone who's lived a lot longer than he has. You don't learn what he has, it's given to you."
His live shows have been met with increasing enthusiasm. The critics have been equally enthusiastic, with the Seattle Times in a concert review calling Kenny "a fiery passionate guitarist"; the Los Angeles Times claimed "the solo work he weaves is as evocative as any lyric"; People predicted "he could join the pantheon of blues greats – before he hits 30," and USA Today called him "a best bet for stardom."
Kenny's teaming with The Eagles paid off with a stadium tour of Europe opening for the legendary band, which became one of the summer's highest grossing tours, according to Amusement Business. Kenny also performed a few solo club dates, including one at London's 100 Club.
In a rare review, The London Times said of Kenny Wayne Shepherd, "Remember his name; it's one you'll be hearing again and again." Following his European adventure, Kenny returned home to join the 5th Annual Blues Music Festival, headlined by B.B. King which also starred The Neville Brothers and Delbert McClinton.
Today, Kenny is one of the most highly visible endorsers of Fender Guitars, with the company hand-crafting a custom guitar built to Kenny's exact specifications. He has also conducted several guitar clinics around the country in association with Fender.
"I don't want people to just listen to my music," cautions Kenny. "I want them to hear it. Having people appreciate what I do is the ultimate satisfaction for me. I think there's a big explosion happening in blues-based music, and it's very exciting. I'm glad to be a part of it. I want to turn my generation on to it. I want to help keep it alive for them."
Hits include: "Blue On Black", "Slow Ride",
"Somehow, Somewhere, Someway",
"In 2 Deep", "Déjà Voodoo", "Was",
"Everything Is Broken", "Alive",
"Born With A Broken Heart",
"The Place You're In", "Last Goodbye",
"Never Lookin' Back".
Kenny Wayne Shepherd may be available for your next special event!
Watch videos:
YouTube

Genre: Blues
Styles:
.Blues-Rock. / BluesRock
.Modern Electric Blues. / ModernElectricBlues
.Contemporary Blues. / ContemporaryBlues


Years active:
x90s, x00s, x10s, x20s
1990-present

Born: ..in Louisiana / born nLouisiana
Born: ..in Shreveport / born ShreveportLA
Born: Jun 12, 1977

Based: ..in US
Based: ..in Louisiana / based nLouisiana