How To Book KOOL & THE GANG For Your Event!
Kool & the Gang may be available for your next special event!



How to Hire KOOL & THE GANG For Your Event!
Popular requests:
Booking fee, booking price, or booking cost.
GRAMMY AWARD winning Kool & The Gang is an American R&B/funk band formed in Jersey City, New Jersey, in 1964 by brothers Robert "Kool" Bell and Ronald Bell, with Dennis "Dee Tee" Thomas, Robert "Spike" Mickens, Charles Smith, George Brown, and Ricky West.
Kool & The Gang, the group with a sound that has influenced the music of three generations, has sold more than 70 million albums worldwide.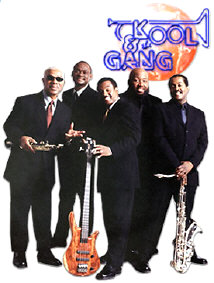 Hire Kool & The Gang for your festival or concert plans.
They have undergone numerous changes in personnel and have explored many musical styles throughout their history, including jazz, soul, funk, rock, and pop music. After settling on their name following several changes, the group signed to De-Lite Records and released their debut album, Kool and the Gang (1969).
Songs like "Celebration", "Cherish", "Jungle Boogie", "Summer Madness" and "Open Sesame" have won two Grammy Awards, seven American Music Awards, 25 Top Ten R&B hits, nine Top Ten Pop hits and 31 Gold and Platinum albums. Kool & The Gang has performed continuously for more than 30 years, longer than any other R&B group in history. Their ticket to longevity has been the evolution of their music.
Kool & The Gang's classic hits have become a mainstay for rap and Hip-Hop artists. Also, they continue to entertain audiences worldwide through extensive touring. They made several historical performances in Russia and were the first African American band to perform in Taiwan.
In the mid 90's, nostalgia for 70's and 80's music in the U.S., Europe and Japan began to explode. Kool & The Gang's classic sing "Jungle Boogie" was featured on the multi-platinum soundtrack "Pulp Fiction." Classic hits like "Ladies Night," "Hollywood Swinging" and a host of others were revived with a Hip-Hop twist from rap artists, such as Mase, Puff Daddy, Coolio and Will Smith.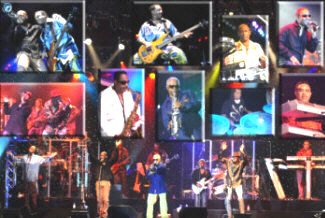 Hire Kool & The Gang for your very special event or occasion.
The band continues to perform to packed audiences of new and old fans around the world.
In June 2023, Kool & The Gang performed at The Cambridge Club Festival along with others, including Lionel Richie, Billy Ocean, Grace Jones, Sophie Ellis-Bextor, Craig Charles, Dan Shake, Eats Everything and Alexander O'Neal.
Hit songs include --
Celebration
Cherish
Fresh
Higher Plane
Hollywood Swinging
Joanna
Ladies' Night
Spirit of The Boogie
Take My Heart (You Can Have It If You Want It)
Jungle Boogie
Victory
Misled
Rhyme Tyme People
Too Hot
Get Down On It
Stone Love
Funky Stuff
Special Way
Emergency
Let's Go Dancin' (Ooh La, La, La)
No Show
Steppin' into Love
Sexy
Hire Kool & The Gang for your party or event!
Kool & The Gang may be available for your next special event!
Book Kool & The Gang, now!
For other great suggestions for booking music acts, look here.

For more suggestions, proceed to the next page.
Click here --
Vocal Music Roster
Or, click on one of the below links --
Music Menu
Fast Index
Entertainers Directory
Home
Genre: R&B
Styles:
.Funk. / xFunk
.Disco. / xDisco
.Soul-Jazz. / SoulJazz
.Urban. / xUrban
.Pop/Rock. / PopRock

Years active:
x70s, x80s
Formed: ..in New Jersey / formed nNewJersey
Formed: ..in Jersey City / formed JerseyCityNJ
Formed: in 1964

Based: ..in US
Based: ..in New Jersey / based nNewJersey