How To Book LEE ROY PARNELL For Your Event!
Lee Roy Parnell may be available for your next special event!



Popular music has a history of defining its artists by their biggest successes. Many search for years to find that rare combination of words, music and magic that results in a "career song," a stylistic calling card that will forever fix their public identity. By contrast, Lee Roy Parnell's musical self was clearly defined long before his songs topped the charts, years before his distinctive vocal, guitar and sounds became vibrant colors in the American musical tapestry.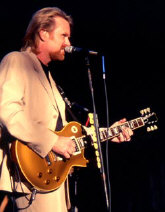 "I knew real early on that I'd be playing music all my life," he recalls. "It was almost like a calling. I knew about life on the ranch, because that's how I grew up, but at the little school I went to in Texas, athletics was the important thing. I wasn't athletic, but playing the guitar gave me something I could do. It gave me a sense of identity."

"Blues music touched me from the first moment I heard it. It overshadowed everything else somehow. Then I heard The Allman Brothers Band, and I couldn't believe it – here were these six guys from the South infusing jazz, country and blues, all the same elements I'd grown up with, but they were playing it in a rock & roll kind of way."
Duane Allman's guitar had a profound impact on Lee Roy, inspiring the budding stylist to concentrate on slide playing. He was equally enthralled with Merle Haggard's writing and singing, and borrowed elements from each. By the time he moved to Austin in 1977, Lee Roy's vocal, instrumental and compositional styles were well-formed. In a town teeming with world-class talent, his soulful approach made him a mainstay.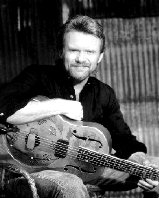 As he built his recording career, other Nashville artists called on him to spice up their own tracks. His slide solos can be heard on songs by Trisha Yearwood, Mary Chapin Carpenter, Delbert McClinton and others. He also found success as a songwriter, and, of course, as a vocalist, and his reputation as an "artist's artist" grew with each album he recorded.
He used his own band, The Hot Links, on his fourth album, "We All Get Lucky Sometimes." The disc yielded the #1 singles "A Little Bit of You" and Lee Roy's own "Heart's Desire" (co-written with Chris Moore). That success further secured his place as one of the industry's most highly-regarded performers, respected not only for his singular talents, but for his unwavering musical integrity as well. It is that principled approach that he brings to "Every Night's A Saturday Night" both as an artist and a producer. The album sings with sincerity.
There is nothing like watching a player who's found the "sweet spot," and "Every Night's A Saturday Night" is a primary example. The synergy of a gifted artist surrounded by talented, kindred spirits, all dedicated to making music straight-from-the-heart results in a remarkable album. Everyone who makes music of any kind has something to gain from watching Lee Roy Parnell swing from the bleachers; everyone who loves music has something new to enjoy. As for Lee Roy, he's simply glad to be in the game.
Awards include --
1998 Gibson Guitar Award for Best Country Instrumentalist
1998 Grammy Nomination for Country Instrumental "Mama, Screw Your Wig On Tight"
1997 CMA Nominee for Vocal Event of the Year "John the Revelator"
1996 Grammy Nomination for instrumental collaboration "Cat Walk" with Flaco Jimenez
1995 CMA Nominee for Vocal Event of the Year "Workin' Man's Blues"
1994 CMA Horizon Award Nominee
Hits include: "Tender Moment",
"What Kind of Fool (Do You Think I Am?)",
"A Little Bit of You", "Heart's Desire",
"I'm Holding My Own", "On the Road",
"Love Without Mercy", "Oughta Be a Law",
"Givin' Water to a Drowning Man",
"When a Woman Loves a Man",
"Take These Chains from My Heart",
"Lucky Me, Lucky You", "Crocodile Tears",
"You Can't Get There from Here",
"We All Get Lucky Sometimes",
"All That Matters Anymore",
"The Rock", "The Power of Love",
"She Won't Be Lonely Tonight".
Lee Roy Parnell may be available for your next special event!
Watch videos.
YouTube

Genre: Country
Genre: Blues
Styles:
.Western Swing Revival. / WesternSwingRevival
.New Traditionalist. / NewTraditionalist
.Traditional Country. / TraditionalCountry
.Contemporary Country. / ContemporaryCountry
.Contemporary Blues. / ContemporaryBlues
.Country Blues. / CountryBlues


Years active:
x90s, x00s, x10s, x20s

Born: ..in Texas / born nTexas
Born: ..in Abilene / born AbileneTX
Born: Dec 21, 1957

Based: ..in US
Based: ..in Tennessee / based nTennessee
Based: ..in Nashville / based NashvilleTN