How To Book LITTLE ANTHONY For Your Event!
Little Anthony & The Imperials may be available for your next special event!



Vocal Group Hall of Fame
-- inducted 1999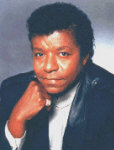 Amazing as it may seem, Little Anthony & The Imperials have recently begun to take the concert stages by storm once again. Officially reuniting in early 1992, the group had not performed together for more than 17 years, yet the magic returned immediately and audiences are showing their approval with thunderous applause.
This successful reunion has already brought the group to sold out appearances at concert halls and fairs throughout the U.S., including Madison Square Garden in New York and the Hollywood Palace in Los Angeles. They made an appearance on Dick Clark's "American Bandstand's 40th Anniversary TV Special" and were honored as recipients of The Rhythm & Blues Foundation's Fourth Annual Pioneer Award. They are just now receiving a long overdue recognition of their artistry and lifelong contributions to rhythm and blues music.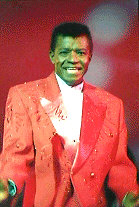 N.Y. Daily News writer, David Hinckley wrote "...some traditions should never die and Little Anthony & the Imperials are working to ensure this one doesn't...The magic quartet of "Little" Anthony Gourdine, Sammy Strain, Ernest Wright and Clarence Collins have made an amazing sentimental and exciting reunion."
Anthony Gourdine, born and brought up in the Fort Greene projects of Brooklyn, NY, began singing as a teenager, doing pop songs on the "Startime Studio" shows. By his mid teens, Anthony wanted to do what other teens in Boys High School were doing -- singing with a group. He put together a quartet in 1955 that started doing songs for their friends, making appearances at local school dances before moving on to club dates. Anthony's group, The Duponts, were signed to Royal Roost Records in '57 and recorded "Prove It Tonight," a pop/R&B hit. The group appeared as an opening act on Alan Freed's Easter Show at the NY Paramount.
After high school, Anthony left to join The Chesters, who were looking for a lead voice. The lineup consisted of Anthony (lead), Tracy Lord (tenor), Ernest Wright, Jr. (second tenor), Clarence Collins (baritone), and Glouster Rogers (bass). They cut one single, a Gourdine ballad, "The Fires Burn No More," for the Apollo label.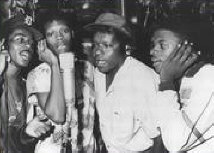 In early 1958, Richard Barrett, an A&R man for End Records spotted the group and signed them to a contract and named them The Imperials. Their first record for End was a double-sided ballad smash. The "A" side, "Tears On My Pillow," instantly launched their career into musical history. This would be their biggest selling hit, selling more than one million copies and has been one on the most enduring love ballads of the '50's. The flip side hit, "Two People World" made this one of the most popular double-sided records in vocal group history.
Anthony was sitting on a Brooklyn park bench one evening, listening to WINS radio DJ Alan Freed coming over the radio. As Alan announced the next record, Anthony heard, "...and here's a new record that is making a lot of noise,...LITTLE ANTHONY & THE IMPERIALS, singing Tears On My Pillow..." The nickname, Little Anthony, stuck and the new group name was official.
Several follow-up singles passed unnoticed ("So Much," "Wishful Thinking," "A Prayer & A Jukebox"). In late '69 the group released the Doo Wop novelty tune "Shimmy, Shimmy, Ko Ko Bop." It was the group's second hit. One million records of that hit have been sold and it has been a favorite of many Imperials fans. A trivia question associated with the song is that "Shimmy" was the last record Alan Freed played when he resigned from WINS radio in 1960.
Follow up single releases "My Empty Room," "Please Say You Want Me," failed to make the charts and by the end of '61, with the pressure to go "solo," Anthony left the Imperials. Neither Anthony nor the three artists working as "The Imperials" made any headway in the hit record arena until late in '63 when the group reformed, minus Lord and Rogers and adding Sammy Strain. Anthony and Clarence were Boys High alumni while Ernie and newcomer Sammy were graduates of Brooklyn's Alexander Hamilton High School.
Their manager then, (and still today), Ernie Martinelli, brought them a long-time admirer, Teddy Randazzo, who loved Anthony's sound. Teddy put together a perfect song for him, "I'm On The Outside Looking In," another huge hit.
The group was signed to a record contract in the summer of '64 for DCP Records (Don Costa Productions). They enjoyed a great resurgence with more ballads under the tutelage of producer/composer Randazzo. With an appearance on Murray The K's Paramount show billed as "....The return of Little Anthony & The Imperials..," "I'm On The Outside Looking In" became their biggest hit since "Tears On My Pillow" and reached #15 on the charts.
The follow up "Goin' Out Of My Head" rose to #6 Pop and #22 R&B in late '64 and the hits kept coming, as Anthony's favorite single followed, "Hurt So Bad," which reached #10 Pop and #3 R&B in early '66.
This is one of the very few groups that so successfully maintained a star presence through the Motown sound and the British Invasion. Two other hits, "Take Me Back" and "I Miss You" brought the group firmly into the latter part of the '60's.
They appeared on T.V.'s "Your Hit Parade," "The Ed Sullivan Show," "The Tonight Show," "Shindig," "Hullabaloo," "Kraft Theater" and numerous Dick Clark Shows. They performed in Las Vegas, did the Miami Beach circuit, the Caribbean Islands, the famed Copacabana and the National night club and concert circuit.
In '69 the group moved to United Artists and recorded a few chart singles. In '73 and '74 they recorded an album with writer/producer, Thom Bell on one side and Teddy Randazzo on the other. From this came the Thom Bell produced hit, "I'm Falling In Love With You."
In 1975 the group broke up again, with Little Anthony officially separating from the Imperials. It was an amicable separation. Anthony had simply decided it was time to "grow up" and go on his own. Little Anthony worked as a successful solo artist from '75 to '91. Clarence Collins, founder of The Imperials, who trademarked the name a long time before the break up, had a group called the Imperials that performed in Las Vegas for many years. Sammy Strain went on to great success as a member of the hit rhythm and blues group, The O'Jays and Ernest Wright joined one of the Platters groups and sang with the group Europa.
History tells it all. Seventeen (17) Pop and 12 R&B chart hits. They had an unmistakable sound that make them a cut above the rest. Their lead singer's voice and captivating personality is well recognized by music industry leaders along with the fans of the music. Yes, it was in 1992 that Little Anthony & The Imperials came together for their first reunion show in NYC and decided to get back together.
With amazing style, choreography, songs and a show that is unparalleled in today's market, they now plan to stay together forever and bring their music to the world.
Notable songs include -- .
Tears On My Pillow
Going Out of My Head
Two People In The World
Shimmy Shimmy Ko Ko Bop
I'm On The Outside Looking In
Hurt So Bad
I Miss You So
Take Me Back
I'm Falling In Love With You
It's Just A Matter of Time
Wishful Thinking
Oh Yeah
When You Wish Upon A Star
Little Anthony & The Imperials may be available for your next special event!
Watch videos:
YouTube

Genre: R&B
Styles:
.Classic Rock. / ClassicRock
.Doo-Wop.
.Early R&B. / EarlyR&B


Years active:
x50s, x60s, x70s
1958-present

Formed: ..in New York / formed nNewYork
Formed: ..in Brooklyn / formed NewYorkNY
Formed: in 1958

Little Anthony --
Born: ..in New York / born nNewYork
Born: ..in New York City / born NewYorkNY
Born: ..in Brooklyn / born BrooklynNY
Born: Jan 8, 1940

Based: ..in US