How To Book Entertainment For Your Event
Mojo and the Bayou Gypsies may be available for your next special event!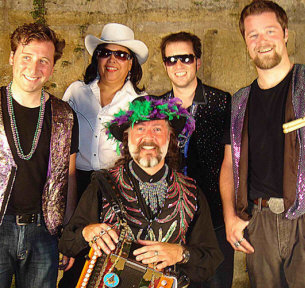 "The mos' fun y'all ever gonna have wit' y'all's clothes on!"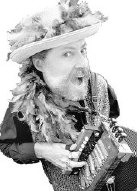 Mojo and The Bayou Gypsies are bringing their Bayou House Party to venues everywhere. This rousing group of awesome performers rocks the house ala Luzianne! They can't help but make 'ya smile. This is foot-stompin' bayou boogie!
Mojo is an absolute wild man, slightly crazy and an awful lot of fun. He is an outstanding musician, a top-notch entertainer and a charismatic performer! Internationally known for his work, he has been performing for more than thirty years. Mojo is the host of the syndicated radio show, "The Red Hot Mojo Hour," star of the television show, "Zydeco Experience" and has performed on television and radio across America and Canada.
Mojo and his Wild Krewe from the Bayou are leading performers of the music popular in Cajun country. The Mojo Show is typical of entertainment common to the spirited Louisiana clubs and roadhouses. The performance comprises original Zydeco and Cajun music, Bayou Comedy, dance lessons and introductions to Bayou culture – all with audience participation.
Cajuns and Creoles fill their parties with good people and good times, with great music and dancing. You will have all of this and more – with Mojo and the Bayou Gypsies. As purveyors of fun, this group is definitely hard to beat!
Put on your best dancin' shoes, your finest Mardi Gras duds, grab your best partners and catch a lifetime memory with Mojo and the Bayou Gypsies. Party on, y'all!
What others say --
Buckwheat Zydeco:
"....a gift from God!"

Wolfman Jack - DJ and Rock & Roll Legend:
"I love Mojo's music!"

Lonnie Brooks - Past Blues Legend:
"Mojo is Mister Zydeco!"

Jim Post - Rock & Roll Hall of Famer:
"The joy of Cajun life and the spice of gumbo flow through the veins of their music!"

Herald-News:
"As the night raced on, there were standing ovations. The full-house audience fell in love."

Chicago Tribune:
"When Mojo moves in...the place rocks."

In Tune:
"Mojo unleashes more energy than Wayne Toups and Doug Kershaw combined. Blitzes at a dizzying pace led by the high priest Mojo whipping the congregation into a frenzy. Very few ever match the unbridled energy !"

KZUM-FM:
"Whoee! Mojo gets the toes a tappin', the fingers a snappin' and the rumps a-movin'!"
Mojo and the Bayou Gypsies may be available for your next special event!

Genre: Cajun
Styles:
.Cajun. / xCajun
.Zydeco. / xZydeco
.Cajun Country. / CajunCountry

Formed: ..in Louisiana / formed nLouisiana
Formed: ..in 1985

Based: ..in US
Based: ..in Louisiana / based nLouisiana