Theirs is one of the most distinctive and recognizable sounds in the music industry. The four-part harmonies and upbeat songs of The Oak Ridge Boys have spawned dozens of country hits and a #1 pop smash, earned them Grammy, Dove, CMA and ACM awards and garnered a host of other industry and fan accolades.
Every time they step before an audience, the Oaks bring 15 years of hits and 50 years of tradition to bear on a stage show widely acknowledged as among the most exciting anywhere. And, each remains as enthusiastic about the process as they have ever been.
"Like everyone else in the group," adds bass singer extraordinaire Richard Sterban, "I was a fan of the Oaks before I became a member. I'm still a fan of the group today. Being in The Oak Ridge Boys is the fulfillment of a lifelong dream."
The two, along with tenor Joe Bonsall and baritone William Lee Golden, comprise one of country's truly legendary acts. Their string of hits includes the pop chart-topper "Elvira," as well as "Bobbie Sue," "Dream On," "Thank God For Kids," "American Made," "I Guess It Never Hurts To Hurt Sometimes," "Fancy Free," "Gonna Take A Lot Of River" and many others. They've scored ten gold, three platinum and one double platinum album, one double platinum single, and had more than a dozen national #1 singles.
The Oaks represent a tradition that extends back to 1945, before Hank Williams had a career. The original group, based in Knoxville, Tennessee, began performing country and gospel music in nearby Oak Ridge where the atomic bomb was being developed. They called themselves the Oak Ridge Quartet, and they began regular Grand Ole Opry appearances in the fall of '45. In the mid-'60s, they were featured in Time magazine as one of the top gospel groups in the nation.
By the late '60s, with more than 30 members having come and gone, they had a lineup that included Duane Allen, William Lee Golden, Noel Fox and Willie Wynn. Among the Oaks' many acquaintances in the gospel field were Bonsall, a streetwise Philadelphia kid who embraced gospel music wholeheartedly, and Sterban, who was singing in quartets and holding down a job as a men's clothing salesman. Both admired the distinctive, highly-popular Oaks.
"They were the most innovative quartet in gospel music," says Bonsall. "They performed gospel with a rock approach, had a full band, wore bell-bottom pants and grew their hair long...things unheard of at the time."
The four became friends, and when the Oaks needed a bass and tenor, in '72 and '73 respectively, Sterban and Bonsall got the calls. The group remained a highly popular mainstay on the gospel circuit, and it was there they refined the strengths that would soon make them such an across-the-board attraction.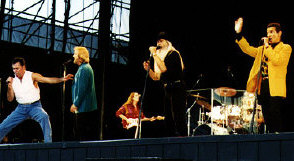 Hire The Oak Ridge Boys.
Their gospel sound had a distinct pop edge to it, and while it made for excitement and popularity, it also ruffled purist feathers and left promoters unsure about the Oaks' direction. Then, in 1975, the Oaks were booked to open a number of dates for Roy Clark, whose manager was floored by their abilities.
"He came backstage and told us we were three-and-a-half minutes – meaning one hit record away from being a major act," says Bonsall. "He said we had one of the most dynamic stage shows he'd ever seen, but that we had to start singing country songs."
They took his advice, and the result was a breakthrough.
Within a year, Paul Simon would tap them to sing backup for his hit "Slip Slidin' Away," and they would go on to record with George Jones, Brenda Lee, Johnny Cash, Roy Rogers, Billy Ray Cyrus and others. They would appear before three presidents, produce one of the first country music videos ("Easy," in 1977, which wasn't released in the U.S. but hit #3 in Australia), take part in the first headline tour of the USSR, and become one of the most enduringly-successful touring groups anywhere.
They did it with a consistently upbeat musical approach and terrific business savvy. They proved their business acumen in any number of ways, including such steps as declining the chance to sit on the couch during their many appearances on the "Tonight Show."
"We said, 'If you're going to give us four minutes on the couch with Johnny, we'd rather have four minutes to give you another song that lets people know what got us here,'" says Allen. "We didn't get here talking; we got here singing."
The group's first personnel change in many years occurred in 1987 when Steve Sanders, who had been playing guitar in The Oaks Band, replaced William Lee as the baritone singer. Late in 1995, Steve resigned from the Oaks and exactly one minute after midnight on New Year's Eve, Duane, Joe and Richard surprised the packed house at Holiday Star Theatre in Merrillville, Indiana, by welcoming William Lee on stage and back in the group. The hit-makers were finally together again!
The Oaks' high-energy stage show remains the heart and soul of what they do, and they refine it several times a year, striving to keep it fresh well into the future.
"We've experienced a lot of longevity," adds Sterban, "and I think the reason is the love we have for what we do – the desire, the longing to actually get up there and do it. We love to sing together...to harmonize together. It's what our lives are all about."
Duane Allen: A native of Taylortown, Texas, Duane ("Ace") had formal training in both operatic and quartet singing before becoming a member of the Oaks in 1966. He is an avid basketball fan and he plays whenever he gets the chance as a means of staying in shape. Duane is also an antique car buff with more than two dozen classics in a collection housed in a museum called Ace On Wheels. "We're currently restoring a 1950 Harley to go along with my car collection. It's a process I love, I get a lot of pleasure out of going down there with some of the guys from the road, sanding and painting with no real sense of urgency. It's a great way to relax." Duane's farm in Hendersonville, Tennessee, features a menagerie that includes Longhorn cattle, horses, burros and Canadian geese. A superb business man, he is credited with keeping the Oaks on firm financial footing during their switch from gospel to country in the '70s.
Richard Sterban: Richard began his singing career as a six-year-old boy soprano in Sunday school in his native Camden, New Jersey. He was a tenor in the glee club in seventh grade, but when he came back that fall for eighth grade, he was a bass. He loved sports and music, decided he had more talent for the latter, and developed a simple goal: "I wanted to be in the best vocal group in the world." Before joining the Oaks, Richard sang in various gospel groups, most notably backing Elvis Presley as a member of the Stamps. Baseball has always been a passion. For many years he has been an owner of the Nashville Sounds (Chicago White Sox' AAA club), attending spring training, even taking bus trips with the team. His well-tailored looks betray one of his other passions. "When I was singing part-time and working in a clothing store, I developed a real interest in fashion, and it's something that has carried through." Richard enjoys fine restaurants, collecting wine and traveling – particularly to the seashore where he enjoys sailing and snorkeling. A fitness buff, he has bicycles in both residences (Nashville and Atlantic City), keeps another stowed in a bay under the bus and even has a case for one so he can check it aboard airplanes.
Joe Bonsall: Joe's Philadelphia background shows through clearly in his love of pro sports. "I live and die with the Phillies, no matter where they are. 1993 was a great year for me, and one of the highlights was going home to Philadelphia and taking my parents to two World Series games. That was so cool." Joe stays in shape playing tennis, getting on the court nearly every day when he's on the road, with members of the band or crew as opponents. He enjoys the water, both in the Caribbean and closer to home. "If we have four or five days off and we don't have a lot of obligations," he says, "more than likely I'm anchored in a cove somewhere on the Cumberland River." As with the rest of the Oaks, though, much of his time is spent on the road performing and he's found his own way to get the maximum possible enjoyment out of touring. "My life is really pretty simple, I go out there and try to sing the best I can and give them physically and mentally every single thing I've got. Then when it's done, I go back to my room, call home, eat my pizza and watch the sports scores and say, 'Hey, I've done what I'm supposed to be doin' and I feel great about it."
William Lee Golden: One of the most recognizable faces in the entertainment industry, "mountain man" William Lee first joined The Oak Ridge Boys in 1964. This farmer's son from Breton, Alabama, made his professional singing debut at age seven when he and his sister Lanette performed gospel tunes on his grandfather's weekly radio show. His love of music never abated. He sang with his high school's FFA quartet and soon formed a group of his own called The Pilot's Trio. "I have always thought that music has a healing power," he reflects, "No matter what you are experiencing, there is a melody that will help you through the moment." William Lee's fascination and knowledge of the native American's way of life has earned him respect and recognition from American Indians as well as members of The Mountain Man Association. He has been honored with many awards, including Celebrity of the Year in 1994 by the Indian Exposition of Anadarko, Oklahoma, which is made up of 15 tribes across the nation, as well as an acclamation from the Cherokee Tribe.
The Oak Ridge Boys have performed at over 2000 concerts including their June 2023 performance at Grand Ole Opry House along with others, including Bill Anderson, Carrie Underwood, Josh Turner, Lainey Wilson, Lukas Nelson & Promise of the Real and Jeannie Seely. Their discography includes thirty-one studio albums and fifty-six singles.