How To Book THE O'JAYS For Your Event!
The O'Jays may be available for your next special event!




Rock and Roll Hall of Fame
-- inducted 2005
How to Hire THE O'JAYS For Your Event!
Popular requests:
BOOKING FEE (booking price, booking cost).
The O'Jays are an American R&B group from Canton, Ohio, formed in 1958.
It was in 1957 when Eddie LeVert, Walter Williams, William Powell, Bobby Massey and Bill Isles began as a quintet called The Triumphs of McKinley High School in Canton, Ohio. In 1960, they became The Mascots but were renamed The O'Jays in 1963 after legendary radio D. J., Eddie O'Jay.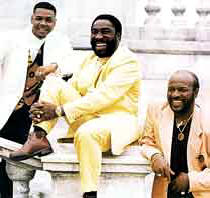 Hire the O'Jays for your festival or concert plans!
Things began to take off for the group when they signed with Imperial Records in 1963 and achieved their first hit, "Lonely Drifter." This was followed by several hit singles and the release of their debut album in 1965, "Comin' Through." The O'Jays had released one more record, "Soul Sounds," in 1967 when they met songwriters and producers Kenny Gamble and Leon Huff.
The group soon recorded on Gamble and Huff's Neptune label as a quartet (Isles departed in 1967). Massey left the group in 1972 and the trio united with Gamble and Huff on Philadelphia International Records recording some of the best R&B/pop hits ever. It was on the Philadelphia International label that The O'Jays' career skyrocketed.
Their muscular vocal stylings, combined with their awesome showmanship, have enabled The O'Jays to perform to sellout crowds worldwide. For the next seven years after the 1972 release of "Back Stabbers," The O'Jays had a gold or platinum record every year and garnered three Grammy nominations for Best R&B Vocal Group.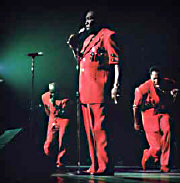 Hire the O'Jays for your very special event or occasion!
In 1990, the group won an American Music Award for Favorite R&B Group or Duo for their hit album, "Emotionally Yours." With six platinum and eight gold LPs, including "Family Reunion," "Message in Our Music," "Ship Ahoy," "So Full of Love" and "Travelin' at the Speed of Thought," the talented trio has proven the test of time. With more than 50 hit singles released in their 40 year career, few people have earned the right to be called "living legends." The O'Jays have earned that right!
The O'Jays have been a soul music staple for more than 40 years. Newest member, Eric Grant, is proud to be included as part of The O'Jays legacy.
Hit songs include --
Back Stabbers
Darlin' Darlin' Baby (Sweet, Tender, Love)
Give The People What They Want
Have You Had Your Love Today
I Love Music
Livin' For The Weekend
Love Train
Lovin' You
Message In Our Music
Stairway To Heaven
Unity
Use Ta Be My Girl
Don't Let Me Down
Put Your Hands Together
Time To Get Down
For The Love of Money
Girl, Don't Let It Get You Down
Forever Mine
Keep On Loving Me
Emotionally Yours
Hire The O'Jays for your party or event!
The O'Jays may be available for your next special event!
Book The O'Jays, now!
For other great suggestions for booking music acts, look here.

Genre: R&B
Styles:
.Pop-Soul. / PopSoul
.Quiet Storm. / QuietStorm
.Philly Soul. / PhillySoul
.Urban Soul. / UrbanSoul
.Soul. / xSoul


Years active:
x60s, x70s, x80s, x90s, x00s, x10s, x20s
1958-present

Formed: ..in Ohio / formed nOhio
Formed: ..in Canton / formed CantonOH
Formed: in 1958

Based: ..in US
Based: ..in Ohio / based nOhio
Based: ..in Cleveland / based ClevelandOH