How To Book PAPA DOO RUN RUN For Your Event!
Papa Doo Run Run may be available for your next special event!

(can perform a very

impressive

Beach Boys tribute set)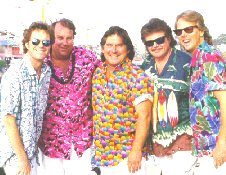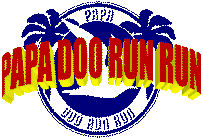 How to Hire PAPA DOO RUN RUN For Your Event!
Popular requests:
BOOKING FEE (booking price, booking cost).
Papa Doo Run Run performs all the feel-good classic rock of the 60's and 70's with a special emphasis on the California music hits of The Beach Boys.
The year was 1965. The air was clean, music refreshingly innocent, and in Cupertino, California, a small, pre-Silicon Valley town just south of San Francisco near Santa Cruz, four high school buddies got together to form a garage band. This was not just any garage band – this band was special!
They would succeed where others would fail – they would continue where others would die off. They had a focus where others bands just rambled. They wore suits!
They believed that "good enough" never was. They practiced their four part harmony until their throats bled – and it paid off. Papa Doo Run Run established a solid performance schedule, playing as many as 200 dates a year, covering North America and two other continents, and a ton of island resorts.
During their humble beginnings in the 60's and 70's, they performed at nearly every high school and college in California. Some of Papa Doo Run Run's opening acts in the early days included Van Halen and The Doobie Brothers, when those bands were still in their garage band stage.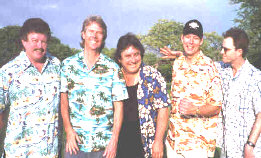 Hire Papa Doo Run Run for your festival or concert plans.
After meeting limited success with a few recording ventures in the 60's and 70's, Papa Doo Run Run caught the big wave with "Be True To Your School," produced by their friend Bruce Johnston of The Beach Boys. That single made the top 40 charts nationally, and No. 1 in California, earning them "Kahuna" status among the veteran surf legends of the day. The flip side was a song called "Disney Girls," which opened the door for what was to become a 15 year run at Disneyland as the "celebrity house band."
Throughout the late 70's Papa Doo Run Run toured with Jan & Dean as their opening act and back-up band, and in the 80's toured and recorded with members of The Beach Boys. They have also appeared in concert with such luminaries as Roy Orbison, Fleetwood Mac, Kenny Loggins, Chicago, The Beach Boys, and many more huge names. Their most notable performances include two Olympics, six Super Bowls, and two Inaugurations. In 1988, Papa was dubbed "California's Band" by California's then Governor Dukmejian, and in 1992 they added a former member of The Beach Boys to their permanent line-up.
Papa Doo Run Run today includes: Don Zirilli – keyboards and vocals, Jim Rush – bass and vocals, (both of whom are original members since 1965), Jeffrey Foskett – guitar and vocals, who joined Papa after his 10 year stint as a member of The Beach Boys (1980-90), plus Bobby Gothar – guitar and vocals, who has shared the stage with Lee Greenwood, Merle Haggard, and Charlie Daniels, and studio drummer Bo Fox, who throughout the 80's toured with Jimmy Buffett, and The Eagles.
Highlights from Papa Doo Run Run's 3 decade history include --
2 Gold Record awards (including "California Project")
GRAMMY nomination
9 charted singles, albums and EPs
Disneyland's "celebrity house band" for 15 years
Toured with and backed up Jan & Dean throughout the 70's
Recorded and performed with members of the Beach Boys throughout the 80's
Performances at 2 presidential inaugurations and 2 World's Fairs
Official band of Hands Across America
Featured at Super Bowl IXX, Super Bowl XXI, Super Bowl XXIII, Super Bowl XXV, Super Bowl XXVII, Super Bowl XXX, Super Bowl XXXII, Super Bowl XXIV
_________________________________________________
What others say about Papa Doo Run Run
Billboard Magazine:
"PAPA's impeccably smooth vocal harmony and rock solid instrumentation are their stock in trade. Their lovingly crafted reproductions of the hits of the 60's and 70's, and especially their award winning re-creation of the hits of Jan & Dean and the Beach Boys, were strictly sensational, and left the audience screaming for more."
Amusement Business Magazine:
"Papa Doo Run Run is the hottest party on the planet!"
Los Angeles Visitors and Convention Bureau:
"Everyone loved our Beach Party in Seattle. It was the highlight of the conference."
-- Jean Spalding
United Airlines:
"The dance floor was packed,
from the first note to the last!"
-- Bruce Callahan
Cisco Systems:
"I've never seen our company come alive like this at any of our other events!"
-- Andrea Yglesias
AT&T:
"Your show was everything we had hoped for, and MORE!"
-- Edward Cotter
_________________________________________________
Hire Papa Doo Run Run for your party or event!
Papa Doo Run Run may be available for your next special event!
Book Papa Doo Run Run, now!
For other great suggestions for booking music acts, look here.

Genre: Rock 1
Genre: Tribute
Genre: Party
Styles:
.Classic Rock. / ClassicRock
.Rock & Roll. / RockNRoll
.Pop/Rock. / PopRock
.Surf. / xSurf
.Party. / xParty


Years active:
x80s, x90s, x00s, x10s, x20s

Formed: ..in California / formed nCalifornia
Formed: ..in Cupertino / CupertinoCA
Formed: in 1965

Based: ..in California / based nCalifornia