How To Book THE PARTY NATION For Your Event!
The Party Nation may be available for your next special event!



Party Nation is a dynamic eight-piece dance and show band, which incorporates costumes, choreography and themed Vegas-style segments into a fast-paced, high energy show that's perfect for any corporate event.
Featuring four fantastic vocalists/dancers, superb musicianship, hip choreography, exciting multiple costumes, fantastic intelligent light show, fun-filled audience interaction.
Their exciting costumed show includes: Disco Inferno, Latin Mania, Elvis Live!, 50's Revue, Psychedelic 60's, Blues Brothers Tribute.
Party Nation's show will take you on a musical journey featuring: Pop, Classic Rock, Motown, Golden Oldies, Top 40, Funk, Swing, R&B, Jazz, 80's, and much, much more!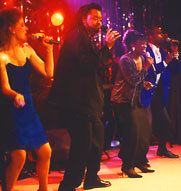 When the success of your event depends on the appeal of the featured entertainment, depend on a proven winner....Party Nation!

For Fun-filled Audience Interaction and Packed Dance Floors
Party Nation has played Caesars Palace, entertained at the World Series and shared the stage with The Four Tops. Party Nation knows the special needs and vision of each client varies.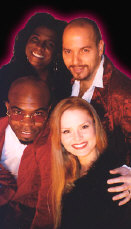 They work diligently to make certain that your special event is thoroughly enjoyed by every member of your organization and all of your guests.
Super Variety and Guaranteed Fun!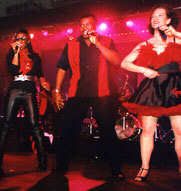 Party Nation features genuine entertainers who give your guests, not just another dance party, but a complete stage show – one that's guaranteed to keep everyone thoroughly entertained. Their extensive song list consists of tunes guaranteed to keep the dance floor jumpin'. During performance breaks, a professional DJ provides continuous entertainment. For guests that prefer not to dance, they will be wowed by fast-paced, high energy stage show. Party Nation always enjoys interacting with audiences. Whether it's a sing-along, conga-line, limbo contest, or that one person that wants to sing with the band, Party Nation makes sure everyone is enjoying the festivities and having the time of his life!

Optional Turnkey Production Services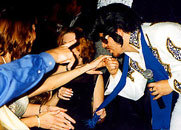 You can relax and enjoy the festivities knowing that your entertainment is being handled by a knowledgeable production staff. From the moment your event is contracted until the final note of music, a production manager and technical support team cover every production detail – everything from advancing the staging and electrical requirements, to your special needs or the unique needs of the facility, with special attention given to sound volume. Party Nation's sound system can accommodate up to 3,000 guests with state-of-the-art, CD quality sound. The intelligent light show is a real knock-out...add mirror balls, foggers, police beacons and special effects units to create a truly unforgettable show! Whether you're hosting an intimate gathering or a large event, a turnkey service can take care of all the details.
For great entertainment featuring superb vocalists and musicians, hip choreography and costumes, super song selection, mind blowing sound and dazzling lights...depend on Party Nation to make your event a smashing success!
The Party Nation may be available for your next special event!
Watch videos
YouTube

Genre: Party
Styles:
.Classic Rock. / ClassicRock
.Disco. / xDisco
.Show Band. / ShowBand
.Party. / xParty
.Pop. / xPop
.Motown. / xMotown
.Golden Oldies. / GoldenOldies
.Funk. / xFunk
.Swing. / xSwing
.R&B.
.Jazz.
x50s
x60s
x70s
x80s
x90s
x00s
x10s
x20s

Based: ..in US
Based: ..in Georgia / based nGeorgia
Based: ..in Atlanta / based AtlantaGA